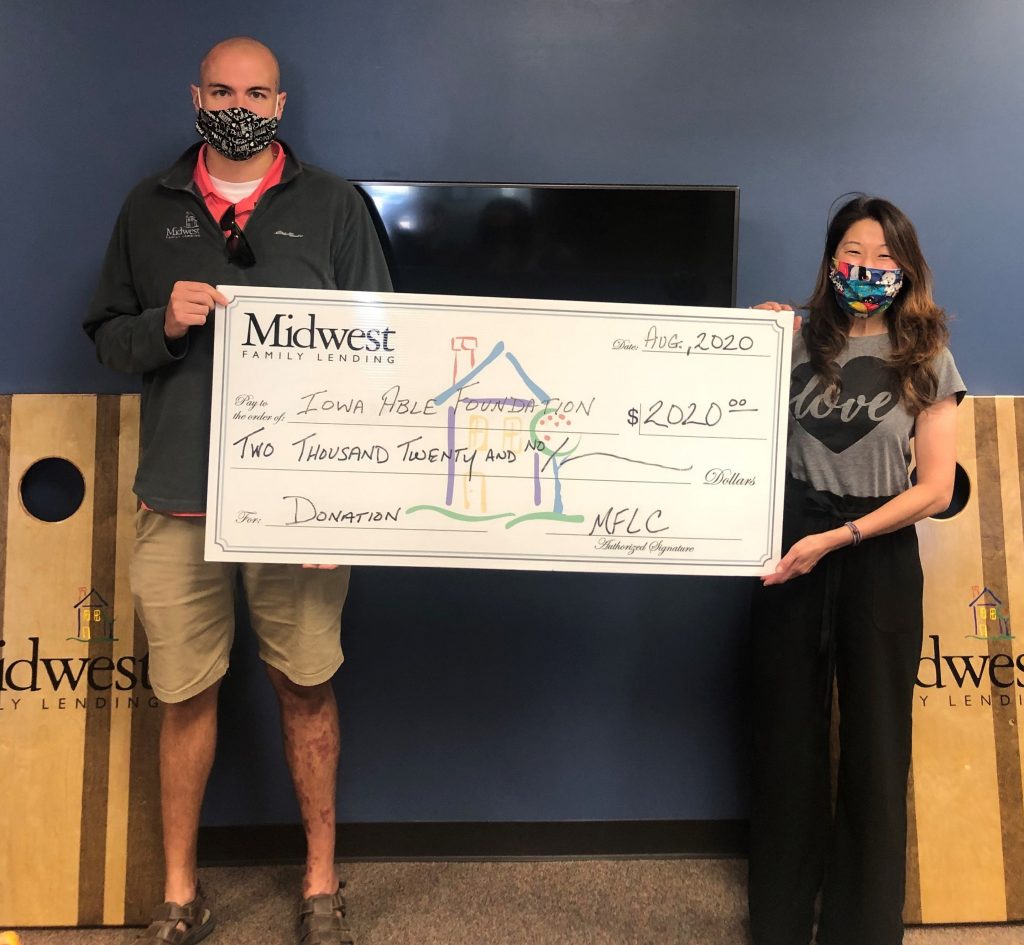 Iowa Able Foundation is our featured charity this month and has received a $2020 donation through our MFLCares program. The funds will be used to support the local non-profit's mission to help people of all abilities become financially independent.
"The Iowa Able Foundation is not only proud and honored to have been selected as the cause of the month for MFLCares in August, but we also greatly appreciate that Midwest Family Lending supports its team members giving of their time and talents to nonprofit organizations," says Anna Magnusson, executive director of Iowa Able Foundation. "It means so much to our team that Midwest Family Lending is a partner in serving Iowans who need financial assistance to acquire the products and services required to achieve independence."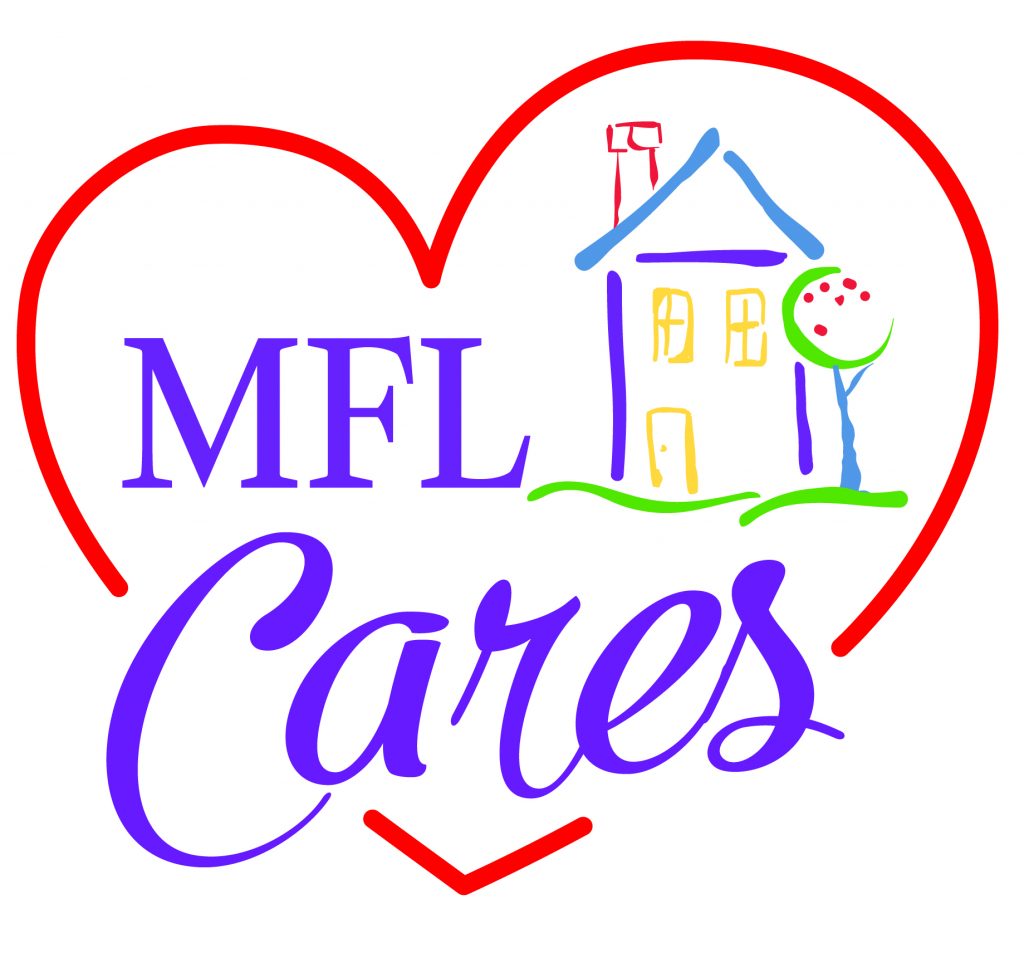 Through MFLCares, Midwest Family Lending employees nominate and select one cause a month to support that is dear to their hearts. Kyle
Guldenpfennig, CVLS, licensed mortgage loan originator with Midwest Family Lending, nominated Iowa Able Foundation. Kyle is the Foundation's executive board secretary. He was looking to get involved in the community and a mutual friend connected him with Anna. He was inspired to join Iowa Able Foundation because of the impact his late aunt's work as a special education teacher for preschoolers had on him.
"I nominated the Iowa Able Foundation for the MFLCares program because of the hard work and dedication I've seen demonstrated daily in moving the mission and its members forward to support people with all abilities in communities around the state," Kyle says. "With a personal connection to someone who gave her life to supporting the disability community, I felt a strong urge to connect with and give back to those who need our support the most!"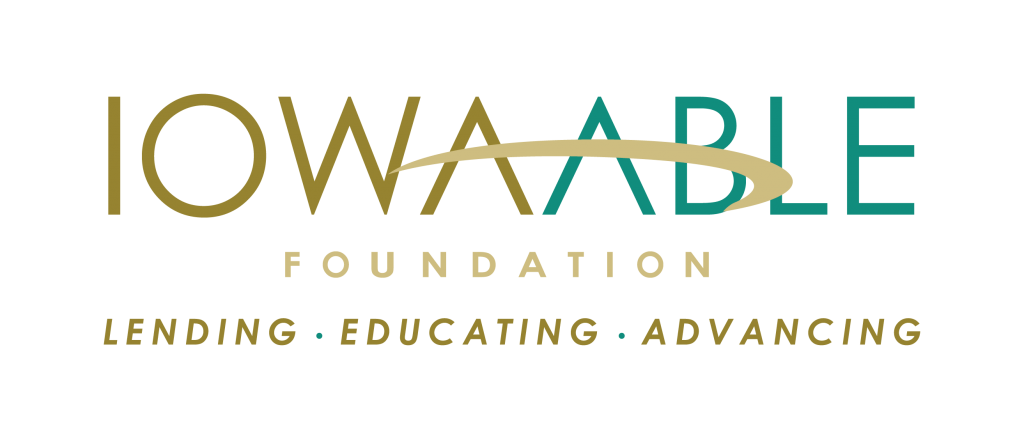 About Iowa Able Foundation
The Iowa Able Foundation is a statewide non-profit organization that helps people of all abilities become financially independent by providing solutions to financial needs and empowering them to achieve their financial goals.
Throughout the past 25 years the Foundation has been dedicated to developing a highly effective model that moves Iowans from a place of financial insecurity to empowerment through its Financial Solutions and Financial Empowerment programs.
Iowa Able Foundation provides immediate, short-term financial relief. Its Financial Solutions program focuses on getting Iowans the immediate financial relief they need to achieve independence. This relief can come in the form of a traditional, credit builder or forgivable loan. The Foundation currently offers the following loan products:
Home Modification
Vehicle Modification
Assistive Technology
Service Animal
Credit Builder
Iowa Able Foundation also helps Iowans achieve long-term financial stability. Its financial empowerment program focuses on helping Iowans gain the financial skills, knowledge and habits they need to maintain independence. Iowa Able coaches work one-on-one with Iowans to establish and follow personalized plans centered around long-term financial goals. Its model is specifically designed to benefit those who need it most.
What's New
The financial impact of COVID-19 has hit the disabled community particularly hard. Many Iowans with disabilities are not able to afford equipment that is essential for independent living, such as hearing aids, wheelchairs, vehicle or home modifications, prosthetics and more.
To ensure access to all, earlier this summer Iowa Able Foundation began piloting expanded loan options and lowered interest rates in Black Hawk, Polk and Story Counties. Those with the least ability to pay are given the lowest interest rates. Interest rates range from 0-4 percent for loan applicants who participate in the financial education program, which includes coaching services.
Expanded loan options mean more needs can be met. In addition to providing loans for disability-assistance equipment, loans are available to Iowans with disabilities for home or vehicle repair, vehicle purchase, service animals, educational needs, and equipment for self-employment.
How You Can Help
Spread the Word and Invest in Iowans!
Encourage those who might need assistance to apply and invest in Iowans.
"Everyone should care about what Iowa Able Foundation is doing because everyone knows someone who uses assisted technology – be it a hearing aid, wheelchair, etc. And none of us know what the future holds; we may need it too."

-Kyle Guldenpfennig, CVLS, licensed mortgage loan originator with Midwest Family Lending,
MFLCares is a program of Midwest Family Lending, a local mortgage company committed to creating customers for life and to community impact. Check out our calendar to learn more about the great causes MFLCares has supported this year.