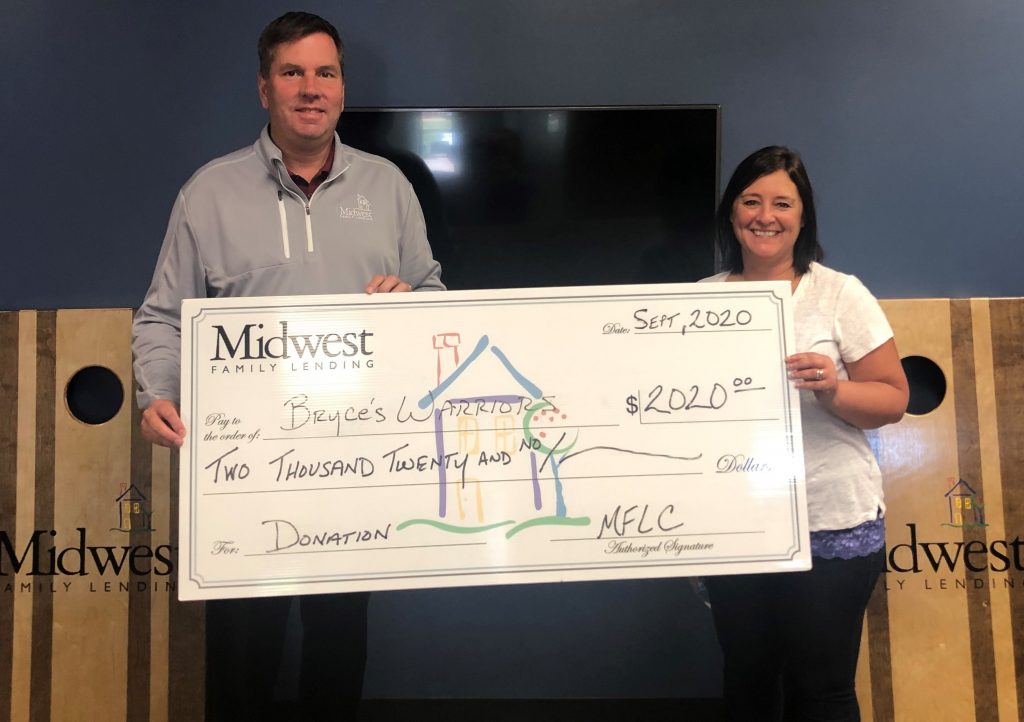 Bryce's Warriors is our featured charity this month and has received a $2020 donation through our MFLCares program.
"We're so grateful to Midwest Family Lending for this very generous donation," says Bryce's Warriors Foundation's Michelle Draisey. "It will go a long way in helping Bryce's Warriors accomplish our mission of assisting transplant families and providing scholarships."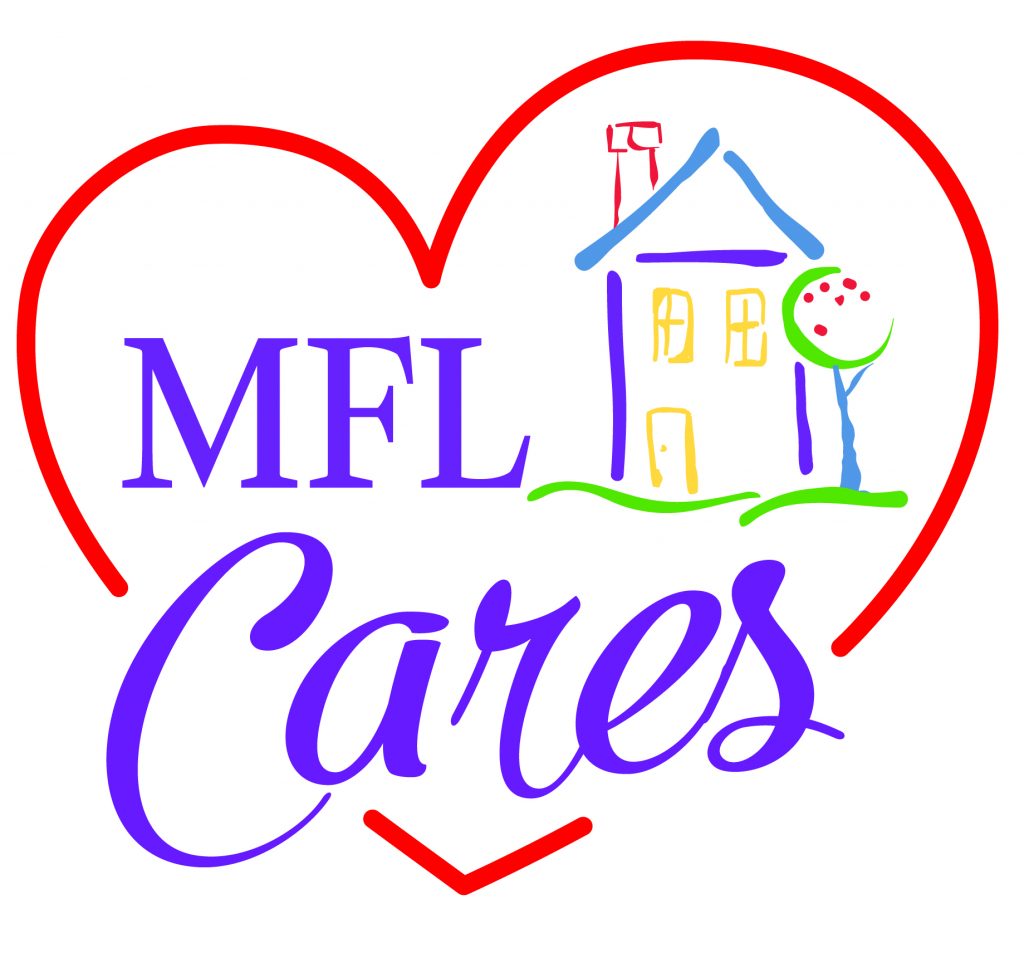 Through MFLCares, Midwest Family Lending employees nominate and select one cause a month to support that is dear to their hearts. Though each of the charities MFLCares supports throughout the year is meaningful to our team, Bryce's Warriors Foundation holds a special significance. Bryce was the son of one of our loan officers, Derek Draisey and nephew of branch manager Mike Draisey. Bryce's memory and impact lives on through the foundation in his name.
"I'm grateful to work for a company that supports the memory of our son and keeps helping us raise funds to help other transplant families and high school seniors in need in our community," Derek says. "It's people and businesses like Midwest Family Lending that have enabled us to find new areas where we can make an impact in the lives of these children and their families while remembering Bryce."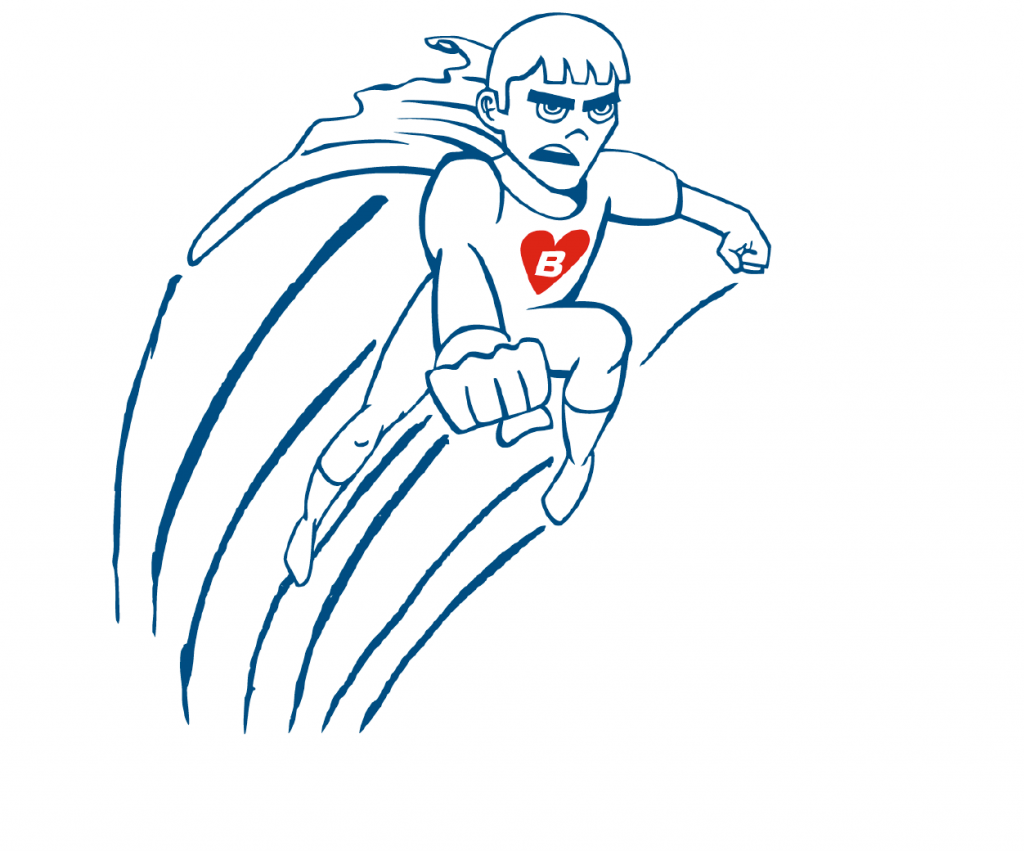 About Bryce's Warriors
Bryce's Warriors Foundation supports the Bryce Draisey Memorial Dollars for Scholars scholarship fund, families of children waiting for and who have had heart transplants, Children's Miracle Network and Iowa Donor Network. Funds raised through the Foundation also provide Thanksgiving meals to children and families in the PICU at University of Iowa Hospitals, as well as food and gas cards to those families in need while a child is living at the hospital. The Foundation is also looking into additional options to expand its assistance to families of transplant children.
Learn more about Bryce's Warriors Foundation and its four missions here. Bryce was proud to spread his story to as many people as he could to create awareness for organ donation. In doing this, he also spread a story of love, courage, and forgiveness that all who knew him will remember.
Remembering Bryce
Bryce Draisey was a happy and presumably healthy 11-year-old boy when he was diagnosed with dilated cardiomyopathy. Over the next 2+ years, he endured several surgeries, including a heart transplant, rejection of his new heart, many hospital stays and many other health complications that arose during that time. Bryce endured all of this believing that each day is a new one and the trials, sadness, or anger that may have happened yesterday no longer matter today. He took his health problems seriously and complied with all of his doctors' instructions, but he also took all of it in stride most of the time. Bryce just wanted to be a normal teenager who went to school and had fun with friends.
How You Can Help
The majority of Bryce's Warrior's funds are raised through an annual golf tournament typically held each September. Unfortunately, like many charity events this year, the Foundation made the difficult decision not to hold the event due to COVID-19. Thus, donations are more important than ever to help support the Foundation's mission.

"We will still be donating to our favorite organizations that helped us so much while Bryce was sick as well as to provide scholarships to seniors in need in our community," Michelle says. "And if the hospital will allow, we will still be catering Thanksgiving dinner to the PICU as well. We're also looking at different ways to expand our assistance to families of transplant kiddos."
To donate, checks may be mailed to:
Bryce's Warriors, Inc.
PO Box 42131
Urbandale, IA 50323-3855

MFLCares is a program of Midwest Family Lending, a local mortgage company committed to creating customers for life and to community impact. Check out our calendar to learn more about the great causes MFLCares has supported this year.