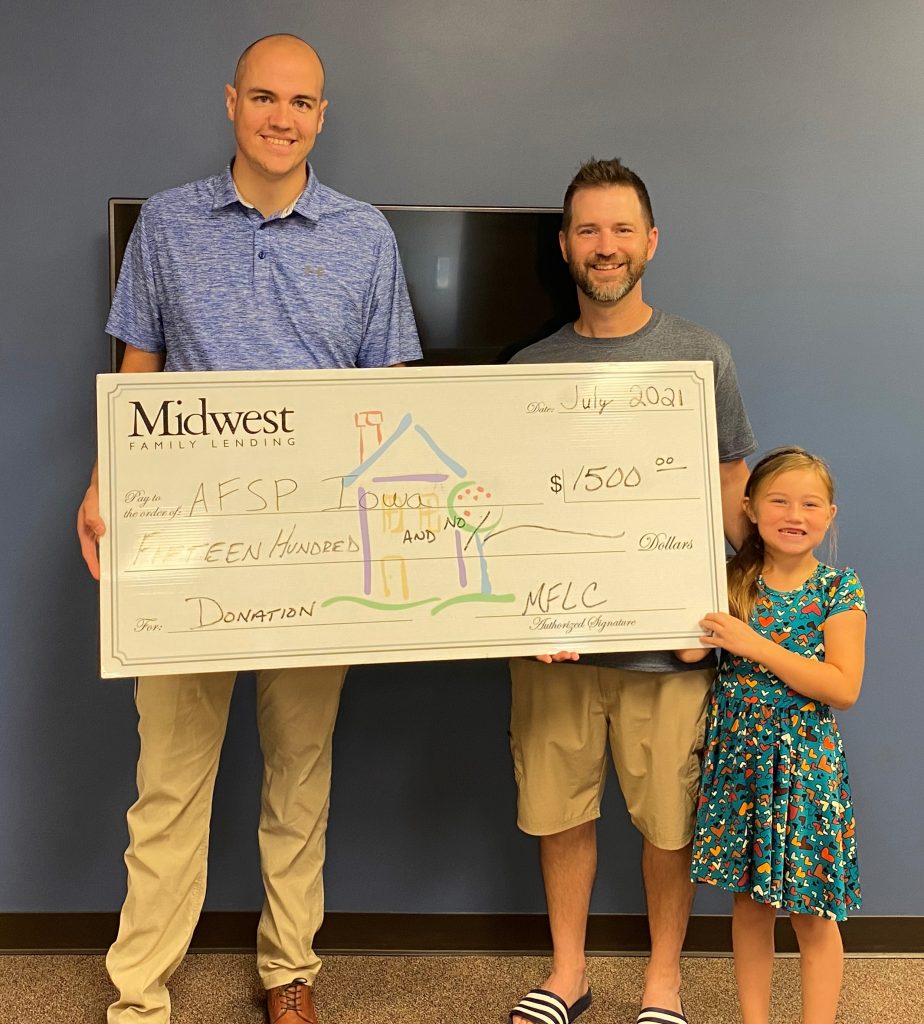 The American Foundation for Suicide Prevention's Iowa Chapter (AFSP Iowa) is our featured charity this month and has received a $1500 donation through our MFLCares program. The funds will be used to support AFSP in its fight to decrease suicide by 20 percent by 2025 through increasing awareness and education campaigns, suicide prevention research, and support events like the Out of the Darkness Walks, Ride to Fight, and International Survivors of Suicide Loss Day.
"Having organizations like Midwest Family Lending, through MFLCares, choose to partner with AFSP Iowa is incredibly important for prevention education and awareness," says Justin Bogers, AFSP Iowa volunteer. "The cause is personal for me, as I do not wish for people to experience the pain associated with mental illness or suicide loss as I have."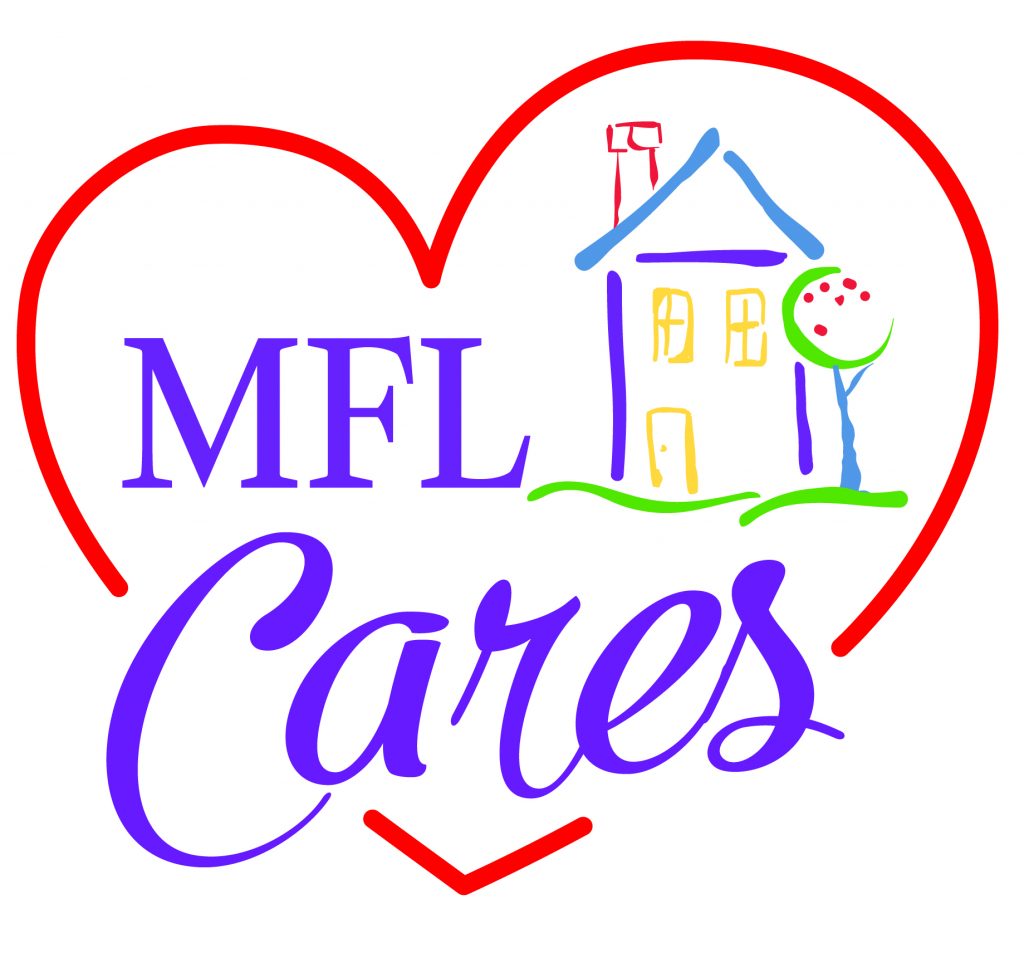 Through MFLCares, Midwest Family Lending employees nominate and select one cause a month to support that is meaningful to them. Kyle Guldenpfennig, CRMS, CVLS, aka #TallMoneyMan, licensed mortgage loan originator with Midwest Family Lending, nominated AFSP Iowa after seeing firsthand the needed support it offers families affected by suicide.
"I chose the American Foundation for Suicide Prevention as this month's charity as it holds a special place in my heart," Kyle says. "The Out of the Darkness Community Walk is something my family has participated in the past 6 years after the suicidal loss of my mother-in-law. This walk has been a good opportunity for us to get together and remember her and many others whose life has ended much too early. Mental health is a serious issue that deserves more attention and this organization is doing just that, bringing light to those that need it the most."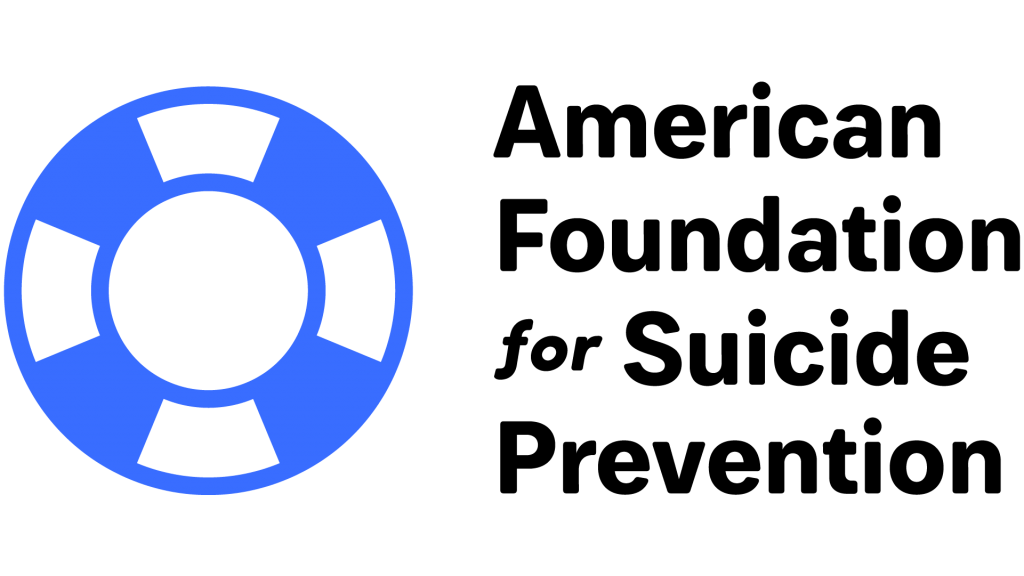 About AFSP
The American Foundation for Suicide Prevention is dedicated to saving lives and bringing hope to those affected by suicide. AFSP creates a culture that's smart about mental health through education and community programs, develops suicide prevention through research and advocacy, and provides support for those affected by suicide.
Led by CEO Robert Gebbia and headquartered in New York, AFSP has local chapters in all 50 states with programs and events nationwide.
"Our nationwide network of Chapter leaders and volunteers are making a difference. They help to create a culture that's smart about mental health, and bring more awareness to their local communities about suicide prevention," says AFSP CEO Robert Gebbia.
Suicide remains one of the top 10 leading causes of death in the United States. Through research we've learned that suicide is multi-faceted, and no one ends their own life for a single reason. Currently, the COVID-19 pandemic and its ramifications are pertinent and while the pandemic itself does not cause suicide, for some people, pandemic-related experiences may contribute to their risk.
How You Can Help
Upcoming AFSP Iowa events include:
Out of the Darkness Walk – Central Iowa on September 19 at DMACC Ankeny Campus. Registration at Noon, event time from 2-4 p.m.
International Survivors of Suicide Loss Day on November 21, 2021. More info to come on this annual event.
Learn more about AFSP in its latest Annual Report, and join the conversation on suicide prevention by following AFSP on Facebook, Twitter, Instagram and YouTube.

AFSP also welcomes opportunities to present any of our prevention and education workshops including Talk Saves Lives. Interested employers, community groups, or individuals can reach out to Joani Moller to learn more.
MFLCares is a program of Midwest Family Lending, a local mortgage company committed to creating customers for life and to community impact. Check out our calendar to learn more about the great causes MFLCares has supported this year.
"The need for these services is high and, sadly, growing in the state of Iowa. Suicide is the ninth leading cause of death in Iowa – in the top five for ages 54 and under. Our state ranks 21st in suicide rates per 100,000, and total deaths to suicide reflected a total of 11,470 years of potential life lost before the age of 65. We need organizational efforts to increase mental health services – particularly in rural Iowa. Together, we can #BeThe1to #BeTheVoice and give hope to decreasing this preventable cause of death."




– Justin Bogers , AFSP Iowa