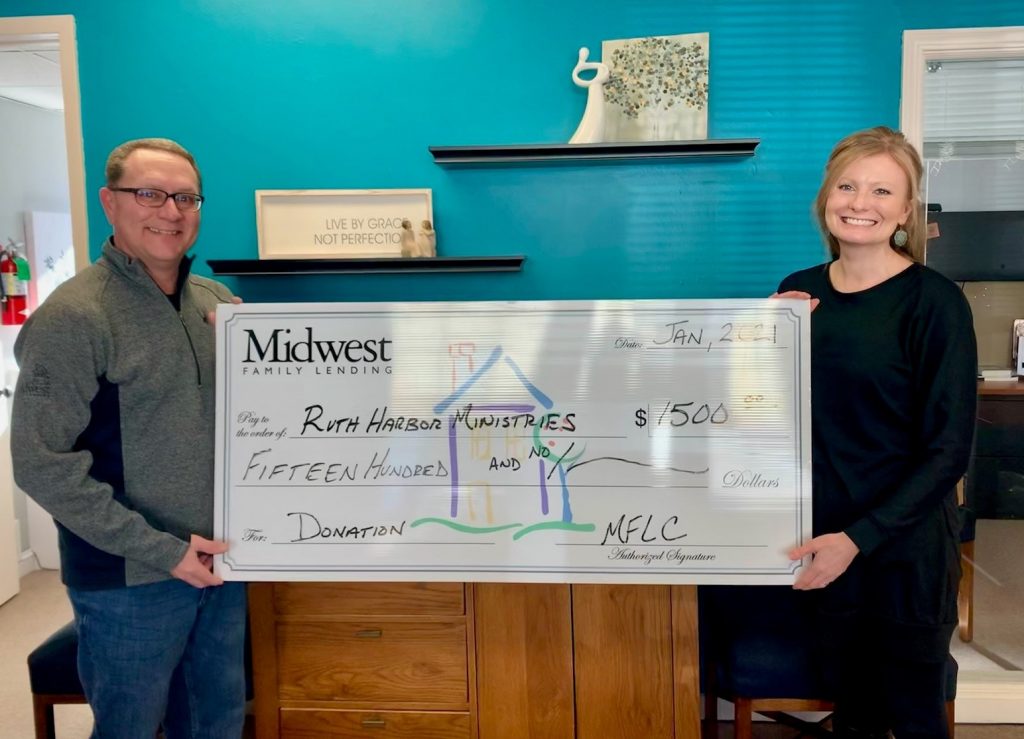 Ruth Harbor Ministries is our first featured charity of 2021 and has received a $1500 donation through our MFLCares program. The funds will be used in support of the non-profit's mission to offer Christ-centered homes and programs for pregnant and parenting young moms.
"Being selected for this generous contribution by Midwest Family Lending makes possible our work to help new moms and their babies be empowered and independent," says Mark McDougal, Executive Director of Ruth Harbor Ministries.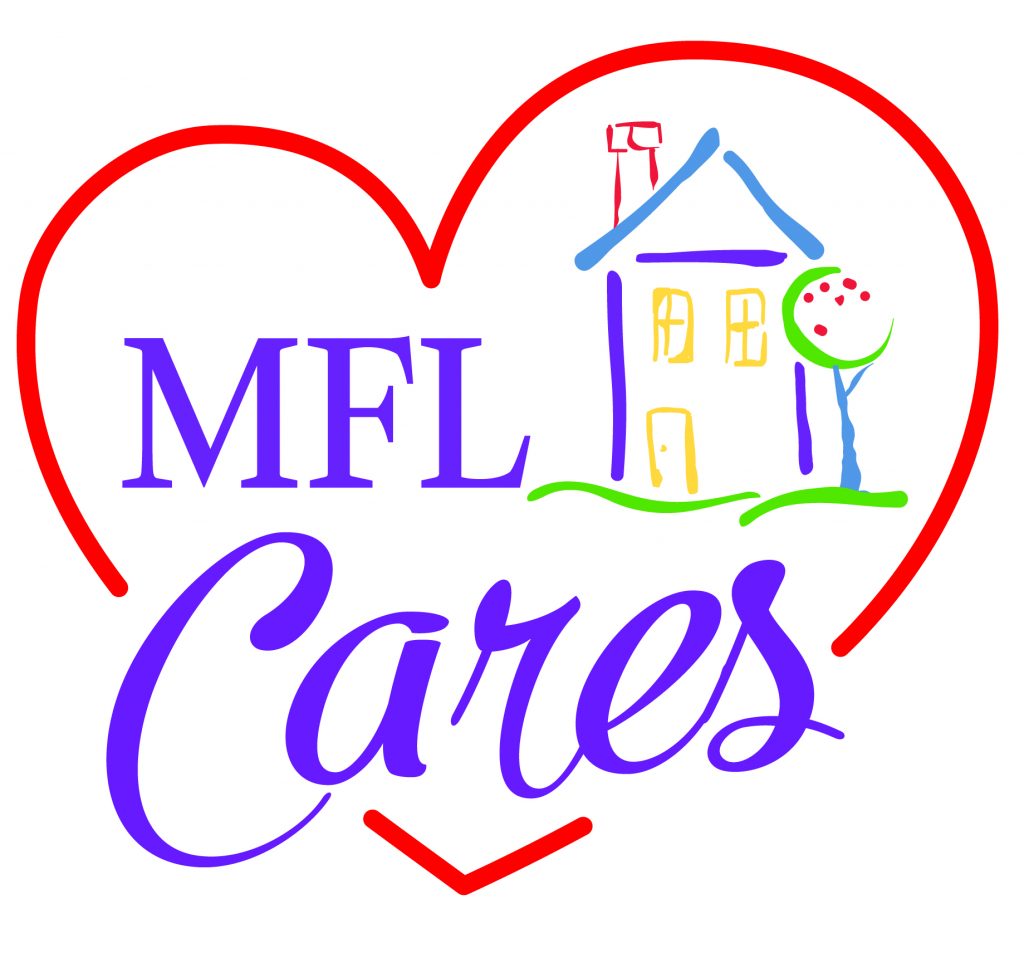 Through MFLCares, Midwest Family Lending employees nominate and select one cause a month to support that is dear to their hearts. Mark Engleman, one of our licensed mortgage loan originators, nominated Ruth Harbor after learning about its mission from his wife, who'd heard about the local non-profit at church.
"After doing just a bit of research, it didn't take me long to determine how worthy this organization is of our support," Mark says. "Ruth Harbor's programs help young mothers during a time when they have no other assistance – from serving young moms facing unplanned pregnancies to supporting those who've chosen to parent and are struggling to thrive and provide a quality life for their children. I'm thrilled to be a small part of supporting this wonderful organization."


About Ruth Harbor Ministries
A Home – Not An Institution
While at Ruth Harbor, women receive counseling, education support, life-skills training, access to quality health care, spiritual guidance, parenting training and/or adoption assistance at no charge. The program's focus is on being a home, not an institution, where up to six residents live modeling a family lifestyle. The emphasis is on grace and independent living rather than any circumstances that brought its residents. Mentors, host homes and partner agencies often provide additional support.
More than a shelter, more than a home, Ruth Harbor is also a program.
Staff members come alongside each resident to design a Care Plan tailored specifically to reach personal goals of growth, independence, safety, and life skills. The key difference between Ruth Harbor and other programs helping young moms is that its goal is to bring about a life change that ends the cycle of self-defeating behavior. The interdenominational Christian ministry was founded on the belief that a personal relationship with Christ is at the center of life change. The circumstances which bring women to Ruth Harbor are of little consequence; instead, staff focus on who these women are and how they feel about themselves when they leave. Young moms who come to Ruth Harbor receive support in decision-making and life skills. They are also are encouraged to continue their education. The ultimate goal is for these young moms to experience positive life change and ensure their children are well cared for.
Ruth Harbor's History & Growth
Three women who believed God called them to provide a safe place and service and to support a gap that existed when a young woman decided to continue her pregnancy founded the ministry in 1996.
Ruth Harbor opened its doors and welcomed its first maternity residents at its Des Moines home in 2001. After years of serving young moms facing unplanned pregnancies, staff began to recognize another "gap" that needed to be filled. Young moms who'd chosen to parent and were struggling to thrive and provide a quality life for their children were also needing support. In 2016, it started a Mother-Child Program and also began accepting young moms who were parenting one young child. Then, in 2018, it opened a full-time Mother-Child Program at a second home in Carlisle, Iowa. And the original Des Moines home returned to a full-time Maternity Program for young moms facing unplanned pregnancies.
Adoption Counseling & Parenting Training
All young moms receive ongoing professional counseling at Ruth Harbor. All of the women who enter its Mother-Child Program are given ongoing parenting training and instruction. Young moms in Ruth Harbor's Maternity Program are counseled through the decision of whether to parent or place their unborn children for adoption. But it is solely their decision. Residents who decide to parent their babies receive extensive parenting classes and life skills training to ensure those babies are well cared for after they're born. Residents who choose adoption are well-informed of their options and are connected to an adoption agency specifically skilled to assist them through the process. Additionally, they receive life skills training and all of the other services available at Ruth Harbor.
Full-Family Support
While the focus of Ruth Harbor's ministry is to support the young moms and children it serves, the Ministry believes everyone thrives when the entire family is healthy. Therefore, families and birth fathers of its residents are offered its counseling and parenting training support at no charge – provided those relationships are healthy for its residents to continue to engage in.
How You Can Help
All of Ruth Harbor's services are provided at no cost. And as an interdenominational, Christ-centered ministry, the organization does not use state government funding. Therefore, it relies solely on the support of individuals, churches and groups who support its mission. Community support helps the team serve 18-30 individuals ages 14 to 23 annually.
Three key ways in which you can give to help Ruth Harbor include monetary donations, volunteering, or donating toits wish list.
Events

Ruth Harbor is holding a Virtual Fundraising Event through January 31. Click the link to hear Hannah's story, her mom's perspective, a powerful perspective from keynote speaker Kirk Walden and to see the cutest baby clips ever!
Ruth Harbor's Walk For Life is a family-friendly, outdoor event, which will be held Saturday, May 8 (Mother's Day weekend). Become a "sponsored walker" and join in a 1-mile walk to celebrate and raise awareness and funds for the ministry. Provide your email here to receive details.
About MFLCares
MFLCares is a program of Midwest Family Lending, a local mortgage company committed to creating customers for life and to community impact. Check out our calendar to learn more about the great causes MFLCares is supporting this year.