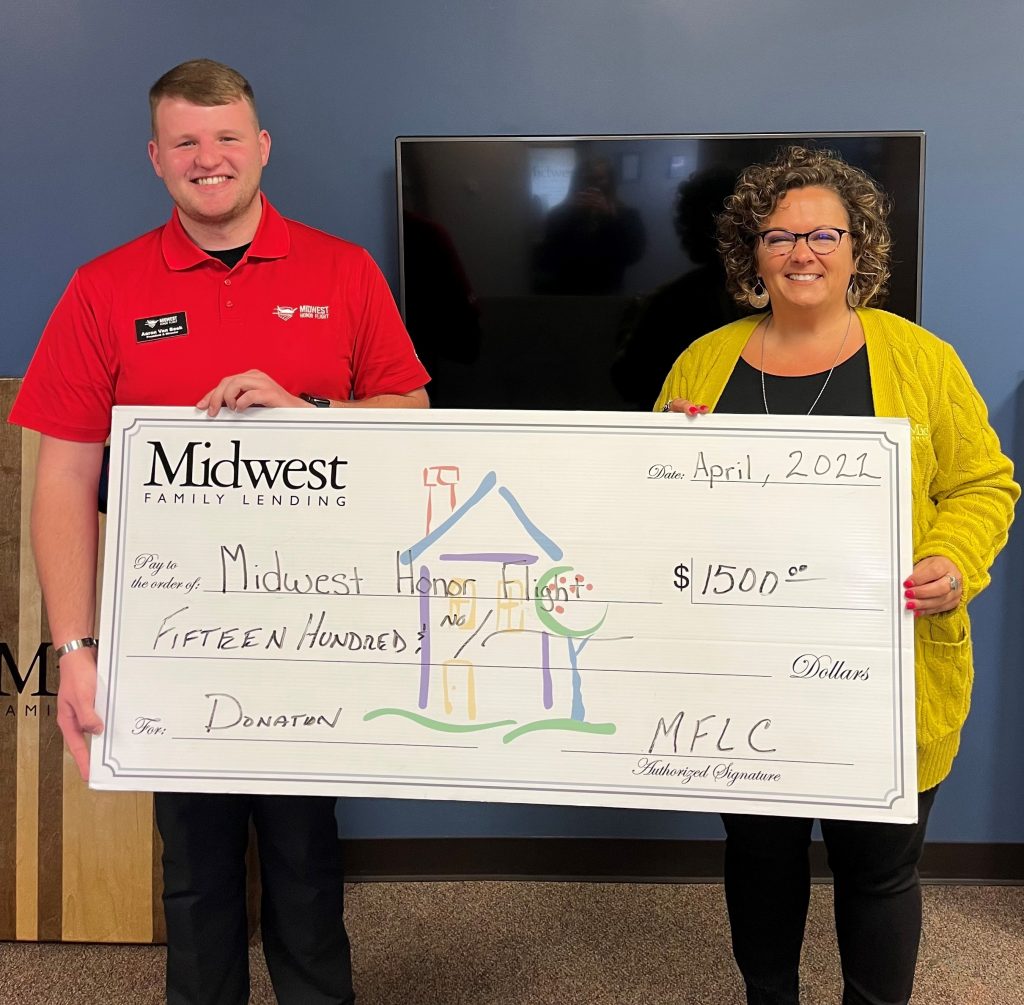 SIOUX CENTER, Iowa – Midwest Honor Flight is our featured charity this month and has received a $1500 donation through our MFLCares program.
"We're grateful to MFLCares for supporting our local Veterans who are so deserving of this once-in-a-lifetime experience," says Aaron Van Beek, president & director of Midwest Honor Flight. "We would not be able to make these Missions possible without the support of individuals, organizations, and businesses like Midwest Family Lending."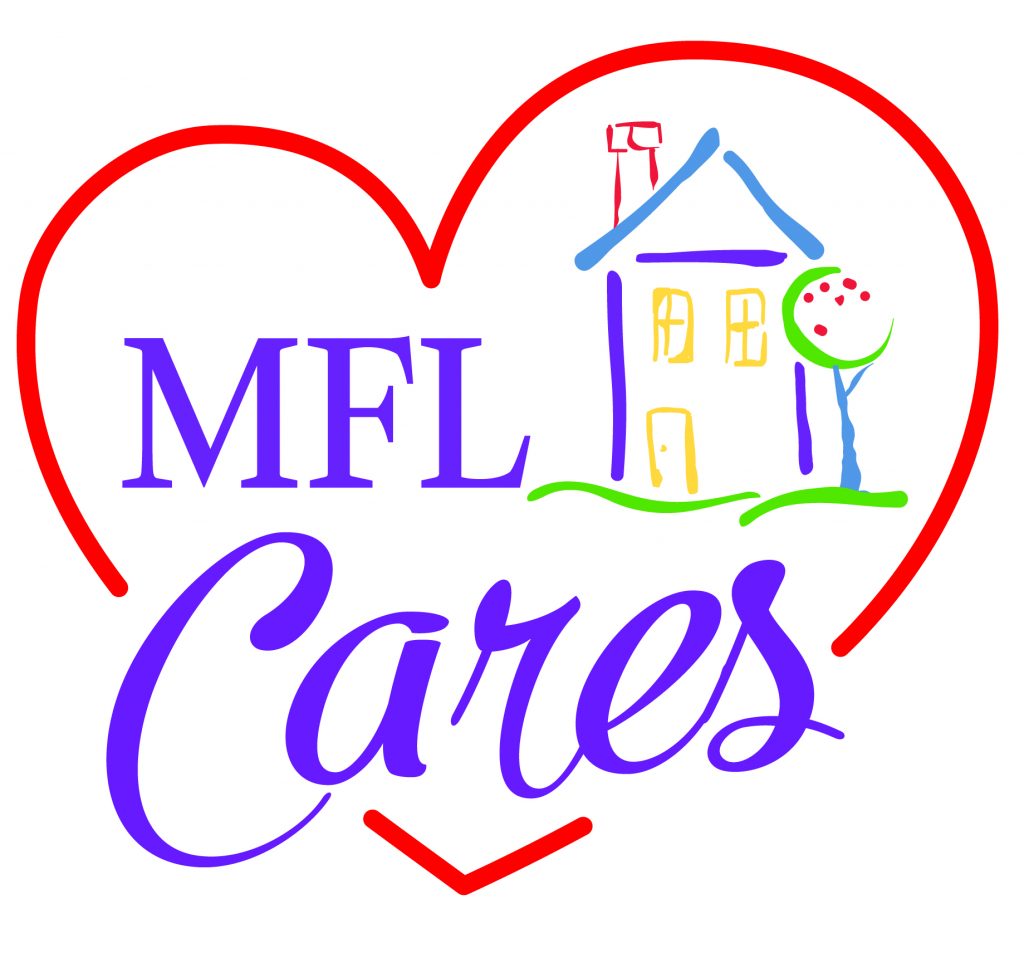 Through MFLCares, Midwest Family Lending employees nominate and select one cause a month to support that is meaningful to them.
Sara Fuller, licensed mortgage loan originator with Midwest Family Lending's Team Fuller nominated Midwest Honor Flight after learning about its mission that shows Veterans how much their service is appreciated through these tours.
"We have our Vets to thank for the freedoms we enjoy today, and it's our duty to honor them any way we can," Sara says. "It's an honor to support Midwest Honor Flight to offer this unforgettable experience for our nation's Veterans."
About Midwest Honor Flight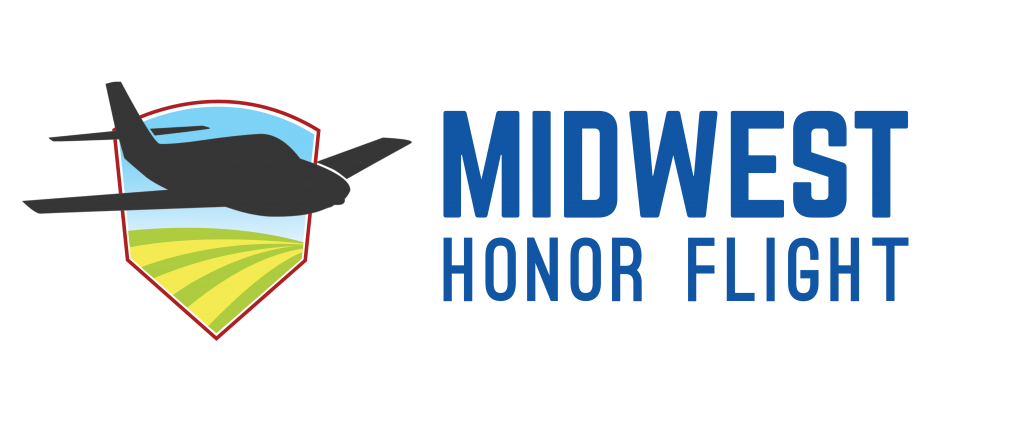 Midwest Honor Flight is a non-profit organization in Northwest Iowa, South Dakota, and Southwest Minnesota dedicated to providing Veterans with respect, honor, and closure with an all-expense-paid trip to our nation's capital. There they visit the memorials dedicated to honoring their service and sacrifices along with fellow Veterans.
If America thought it was important to build a memorial to their service and sacrifice, Midwest Honor Flight believes it's important for them to visit these memorials before it's too late. As each flight is funded, the organization immediately schedules the next.
More than 730 Veterans have had the chance to experience their memorials and more than 800 are waiting to fly with Midwest Honor Flight. While each Veteran experiences different emotions throughout his/her Honor Flight, each era has been carrying around burdens since ending its tour of duty.
"On each Midwest Honor Flight Mission, our local Veterans, many who have been hurting for years, are able to see their memorials that will forever remain in our nation's capital," Van Beek says. "They know their service will never be forgotten, are thanked for their sacrifices the entire day, and for some, are welcomed home for the very first time. They come home personally knowing how much their country loves them and respects them. For many, they begin to accept their service as honorable and begin to heal."

How to get involved
Donate to Help Send an American Hero on a Final Tour with Honor
Tours are simply not possible without public support. The cost to conduct an average Midwest Honor Flight trip out of Sioux Falls, South Dakota is now approximately $150,000. Every $753 received will send one American Hero on a Final Tour with Honor. It costs about $753 to sponsor each Veteran, and they pay nothing out of pocket for their flight. This includes their flights, food, and transportation in DC as well as a banquet meal the night before. All donations are tax deductible.
Guardians are essential to the success of the Midwest Honor Flight program. Without these volunteers we would not be able to carry out the dreams of so many veterans, enabling them to see the memorials built in their honor.
Top priority is given to WWII, Korean War Veterans, and terminally ill veterans from all wars.

Upcoming Events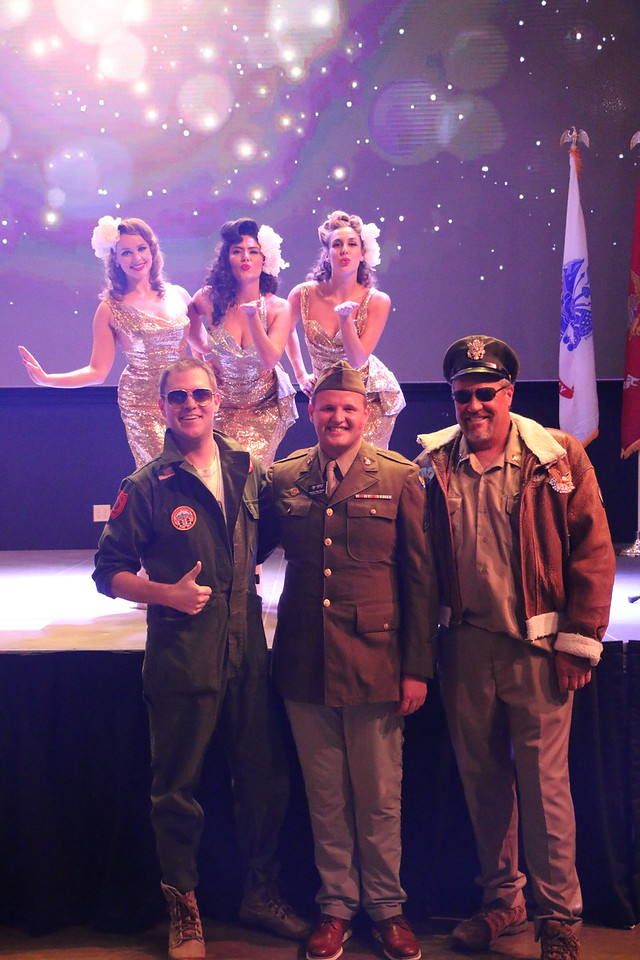 June 12: 2nd Annual Honor Ride
July 11-14: Sioux County Youth Fair Food Booth
August 22: The Barrel House Day of Giving
October 15: 5th Annual Hangar Dance
December 17: Wreaths Across America Day
MFLCares is a program of Midwest Family Lending, a local mortgage company committed to creating customers for life and to community impact. Through the program, we care about and support local causes that make our communities brighter each month. Check out our calendar to learn about the people and organizations we've recently supported that are making a positive impact and making the Midwest a great place to call "home."