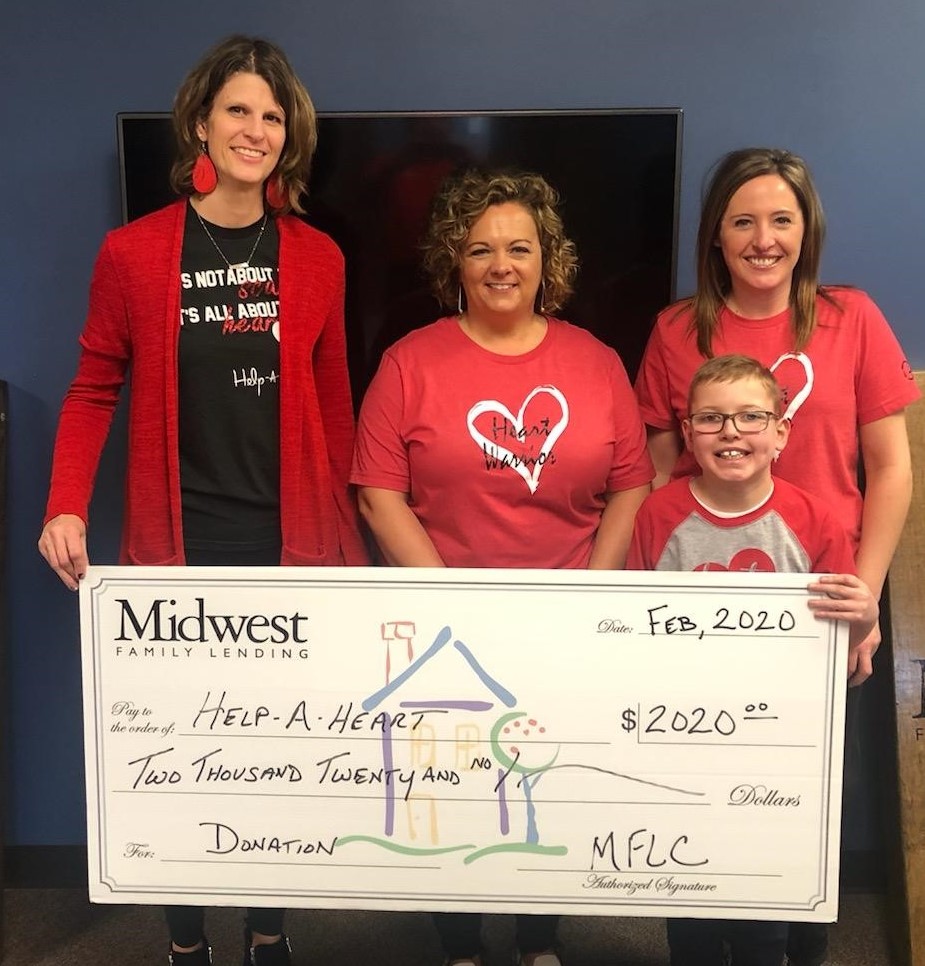 Help-A-Heart is MFLCares' February charity and has received an $2020 donation through Midwest Family Lending's MFLCares program. The funds will be used in support of the nonprofit's mission of "sharing love by providing emotional and financial support for Iowa families affected by congenital heart disease."
"We're incredibly grateful for the support of caring businesses like Midwest Family Lending that help aide our efforts to ensure families going through this feel less alone," says Emily Graber, co-founder of Help-A-Heart. "Losing a child to this disease is something all of us think about daily. It's not a club you'd choose to be in if you had a choice."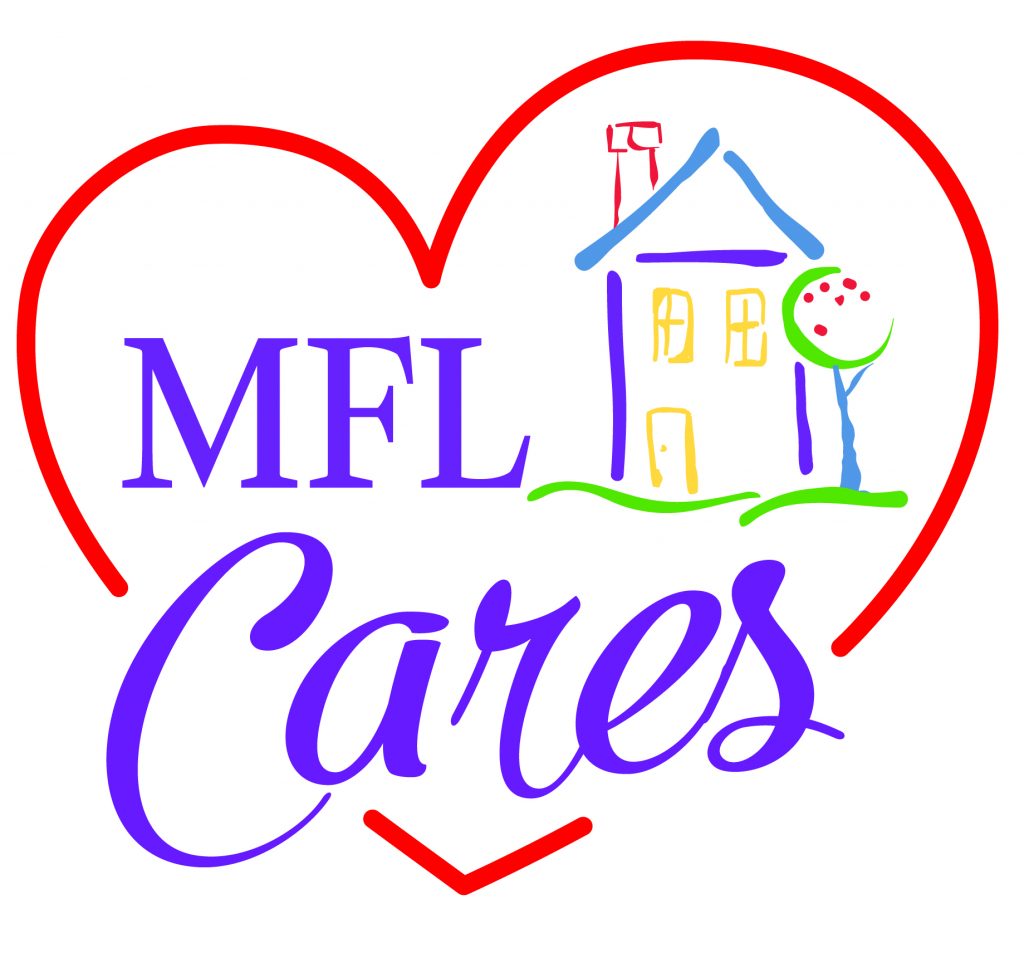 Through MFLCares, Midwest Family Lending employees nominate and select one cause a month to support that is dear to their hearts.
"This cause is very close to me because of my nephew, Grady, who was born in 2011 with a double inlet left ventricle (the same condition as Graber's son's). He's since had four surgeries and has come a long way," says Sara Fuller, licensed mortgage loan originator with Midwest Family Lending. "Help-A-Heart was there in the time of need when my family was in the hospital needed food and support."
Help-A-Heart's Story
Graber co-founded Help-A-Heart 14 years ago with Melissa Hooper after the two met and became friends when their sons were having heart surgery. The mothers dreamed of starting an organization to help families both financially and emotionally while their children have extended hospital stays due to congenital heart disease.

What They Do
Provides $100/week or $400/month. Help-A-Heart has provided assistance to more than 400 different Iowa families since inception
Provides meals for families on surgery day
Gifts for heart kiddos and families during hospital stays
Gift cards for food and gas
Payment for lodging or their stay at the Ronald McDonald House
Special visits to families in the hospital (many times bearing gifts)
Monthly support group meetings held Valley Community Center in West Des Moines, the second Thursday of the month
Special events including: Mom's Night Out, Valentine's Day, Iowa Wolves Game, Christmas party, and other family oriented events
Who's Eligible?
Iowa families with a child with a congenital heart defect
No financial requirements
Generally referred by nurses & social workers at the hospital, but can be referred by friends or family
Eligible after child has exceeded a 2-week hospitalization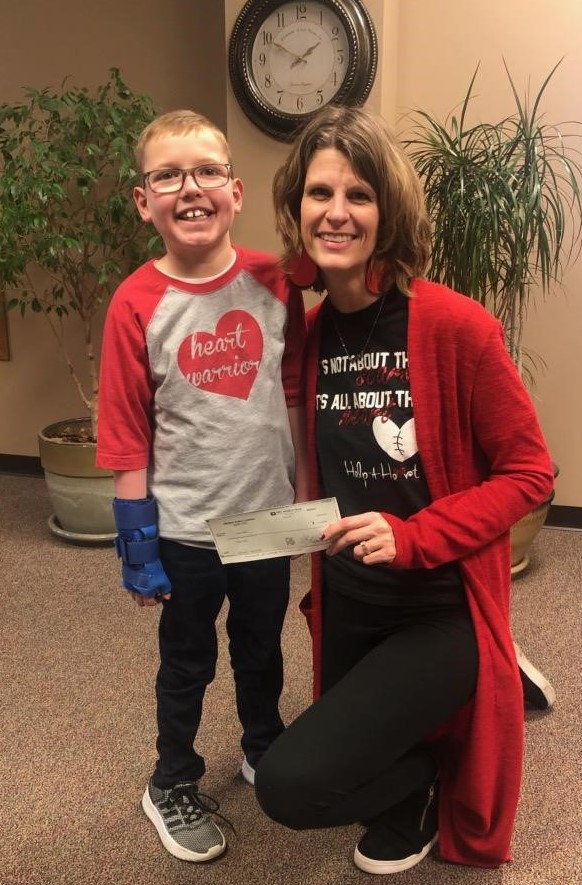 How You Can Help
To refer a family click here.
6/15: Celebration of Life Dinner and Silent Auction, Walnut Creek Church in Windsor Heights
9/12: Dylan's Dragon Walk, Centennial Park, Waukee
10/4: Superhero Heart Run, Raccoon River Park
Donate
Donations may be made online via PayPal or by check.
Volunteer
Below is a list of ideas of how you can give your talents and share your time:
Write notes of encouragement
Provide food for support group gatherings
Provide childcare for support group gatherings
Donate an auction basket for our annual fundraiser
Craft, sew, and create items
Donate gifts for heart kids and their siblings (note: button-up onesies make a great gift for infants in the hospital because it provides a passageway for wires and tubes)
Stuff and mail envelopes
Volunteer at events (example: "manning a booth", set-up/ tear-down, taking photos)
Design T-shirts and posters for events
MFLCares is a program of Midwest Family Lending, a local mortgage company committed to creating customers for life and to community impact.