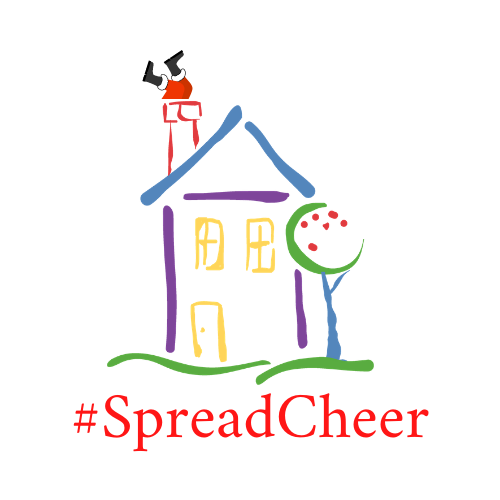 In the understatement of the year, 2020 has been incredibly difficult for many. Although the need's overwhelming, our employees wanted to help end it on a positive note and make the Christmas season a bit brighter.
Enter #SpreadCheer
Each employee selected an organization or family they'd like to support in a project we called "SpreadCheer". We hope you've joined us in celebrating the 25 days of Christmas by watching as we've announced the recipients of our 25 employees' gifts of $1000 to 25 people and organizations in need.
ICYMI, here's a recap!
We encourage you to check them out! And we would love it if you would share their stories too. Though we know monetary donations are important and appreciated, we truly believe the long-term benefit is growing the awareness of these incredible organizations and people.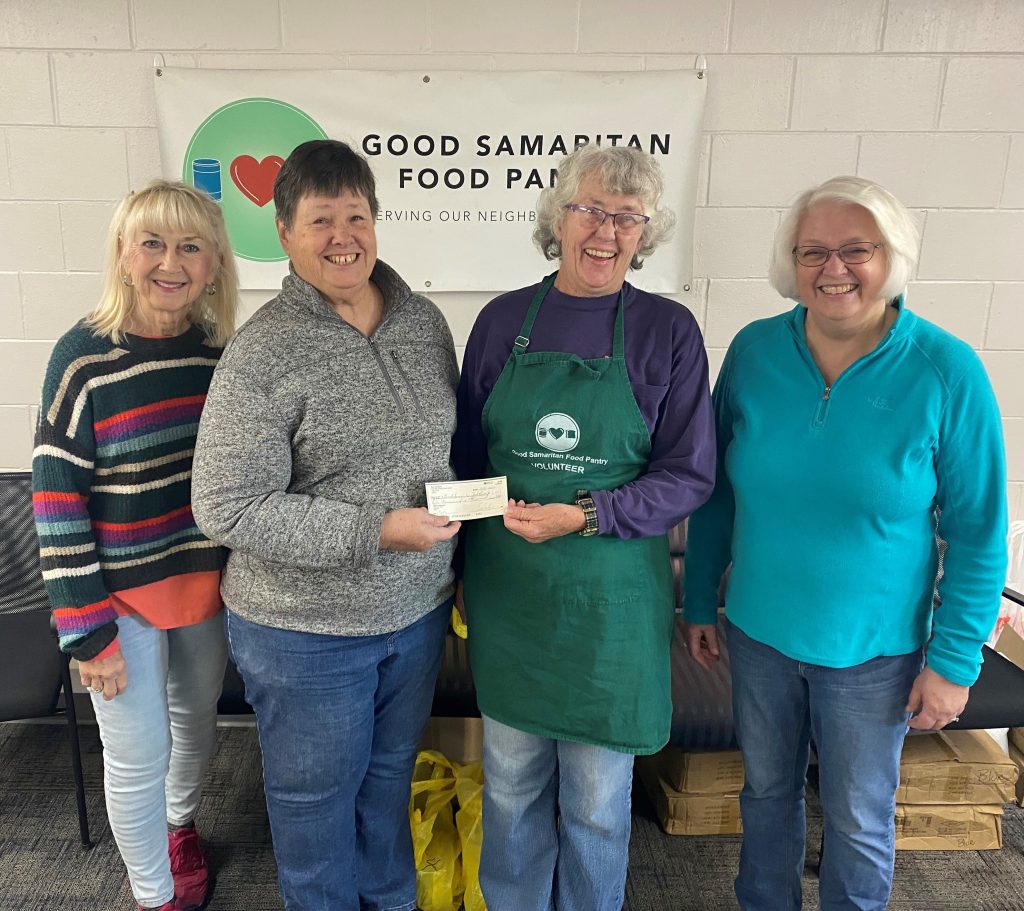 The pantry serves central Iowa and offers a Backpack program to feed children in five local schools who would otherwise go hungry. Each week, 125-150 meals are distributed through the program.
"As a Backpack program volunteer, I've heard firsthand the stories of how important these meals are to food-insecure children in our community," Eric says. "No one wants children in our community to go hungry. When I first started to help, I wasn't aware of how large of a need there was — and that need is greater today than it has ever been. That's why it is so important to continue to support this wonderful program."

According to Feeding America, a network of nationwide food pantries, 1 in 7 Iowa children struggles with hunger. The need for assistance is growing as a result of the pandemic.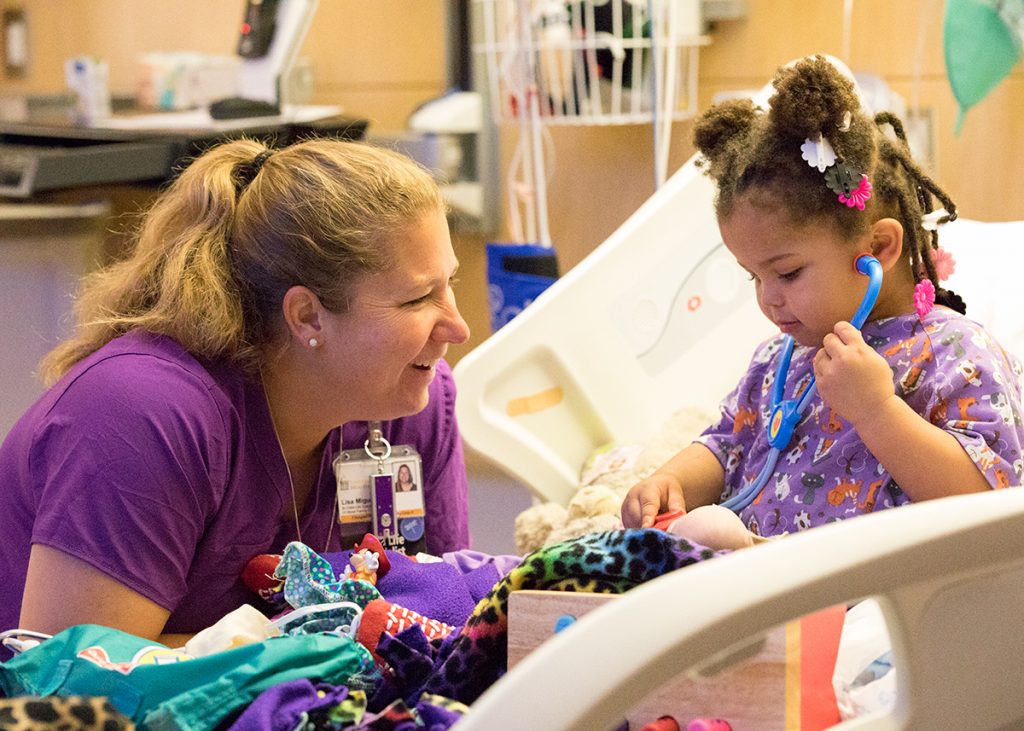 Through the use of play and other forms of communication, UIHC's Child Life specialists help children and families cope with hospitalization and medical treatment. Child Life staff are positive, kind, gentle and understanding souls who provide an invaluable service to families facing pediatric illness — and that care wraps around the entire family. Sibling support group is a program that focuses on ensuring siblings of patients are also included. The team answers siblings' questions about the patient's care and fills some of the downtime by playing games and other fun activities with them. The team's care made an impact on the Draisey family when Derek's son Bryce was hospitalized several times in the span of two years.
"UIHC's Child Life team is a wonderful group of people who spend their days making a very difficult time a little less scary for pediatric patients and their families," Derek says. "They brought us all comfort and even joy during a very difficult time. Even after all these years, we still consider the Child Life staff family."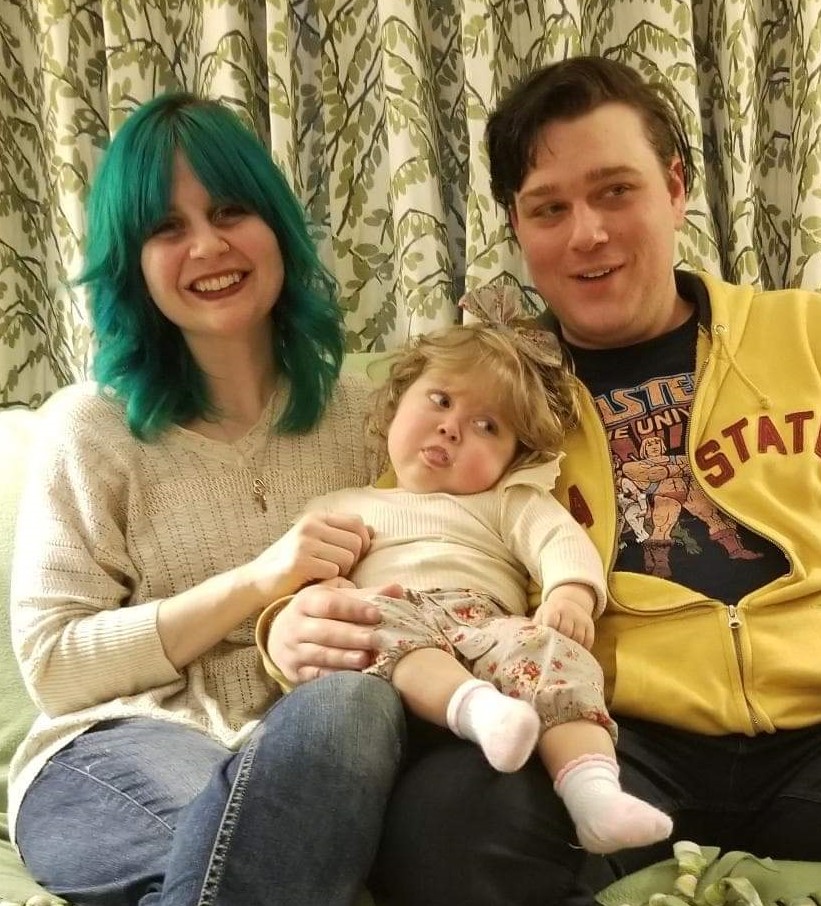 As her son's oldest friend from elementary school, Jackie has developed a close relationship with PJ and his wife Becky, whom she says are "the kindest, most giving couple I know". And she's also seen the impact their daughter Freya's medical needs have had on the family.
Freya was born 9 weeks early. Umbilical complications resulted in lack of oxygen for nearly 10 minutes and left their firstborn fighting for her life. After months of care in the hospital, they were finally able to bring her home. But the resulting complications, medical bills and a job loss have taken a toll on this sweet family. Obtaining specialized equipment to help Freya with her special needs and development remains an ongoing concern.
"Needless to say, the past couple of years have been extremely stressful for this family," Jackie says. "I can't imagine the strain put on them both, but they remain positive and keep fighting and finding ways to get Freya the help she needs."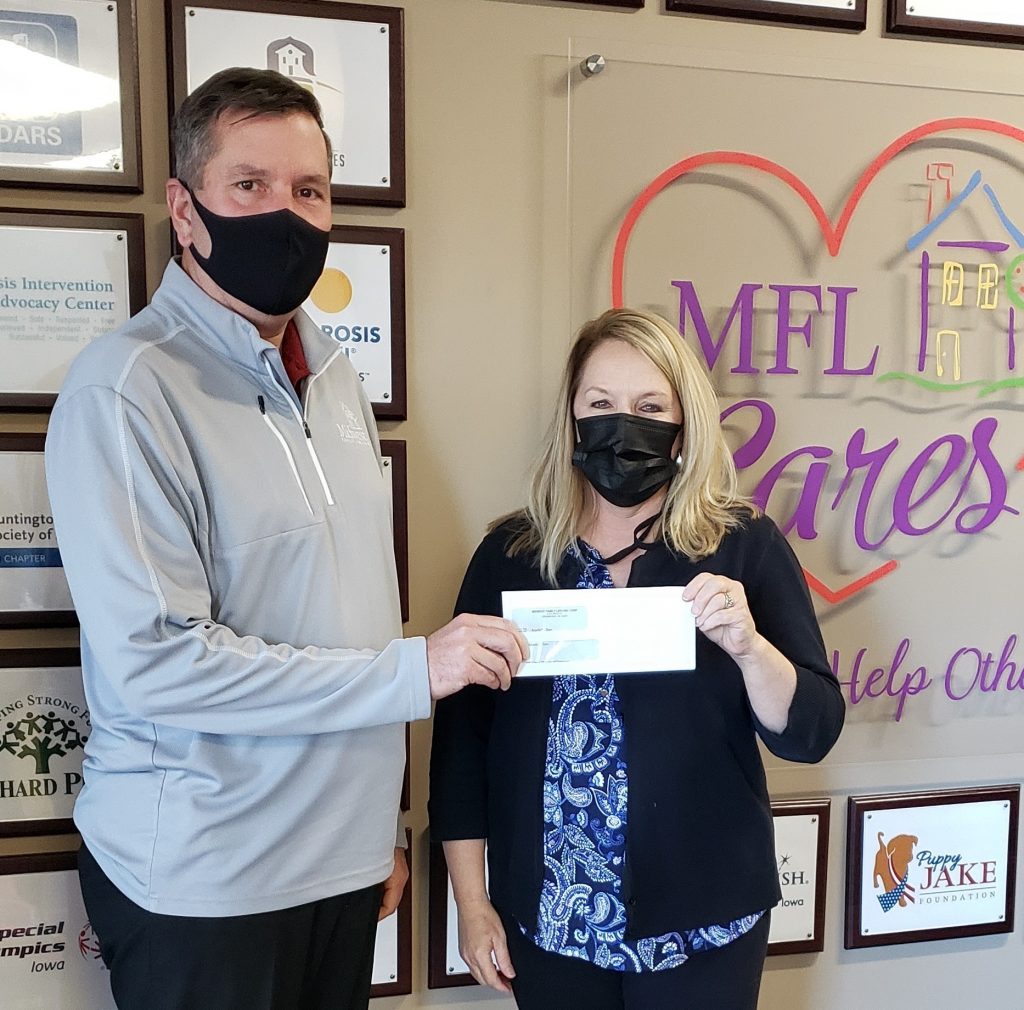 Angels for Sam supports local families who have been impacted financially by illness, injury or bereavement. Having a niece and nephew who have battled life-threatening diseases at a young age, Mike is familiar with some of the struggles families of children with health issues are faced with. While the children endure the illness, the families that are faced with the reality and emotions of having a sick child along with the accompanying financial hardship. Through fundraising efforts and donations and a recipient referral process, Angels for Sam is able to help some of these families in need.
"Families facing this shouldn't have to be concerned about financial hardship on top of everything," Mike says. "I'm thankful to be able to support Angels for Sam in its effort to "pay it forward".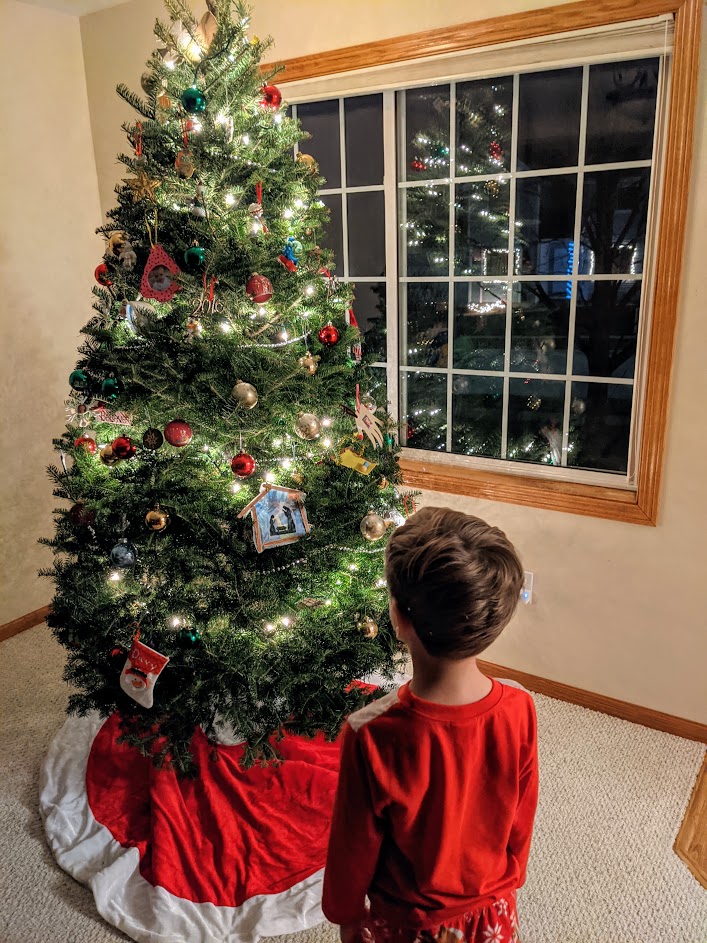 Altoona residents Cassey and Kodi have five children ages 3-13 and have been working multiple jobs to try to make ends meet.
"After being notified of this opportunity to bless someone in our community, I called the pastor at my church, knowing he would be the best place to start," Kyle says. "A local family came to mind immediately. When Pastor Greg called them about this gift, Cassey was brought to tears of joy. My pastor said it was the best phone call he's gotten to be a part of in a long time."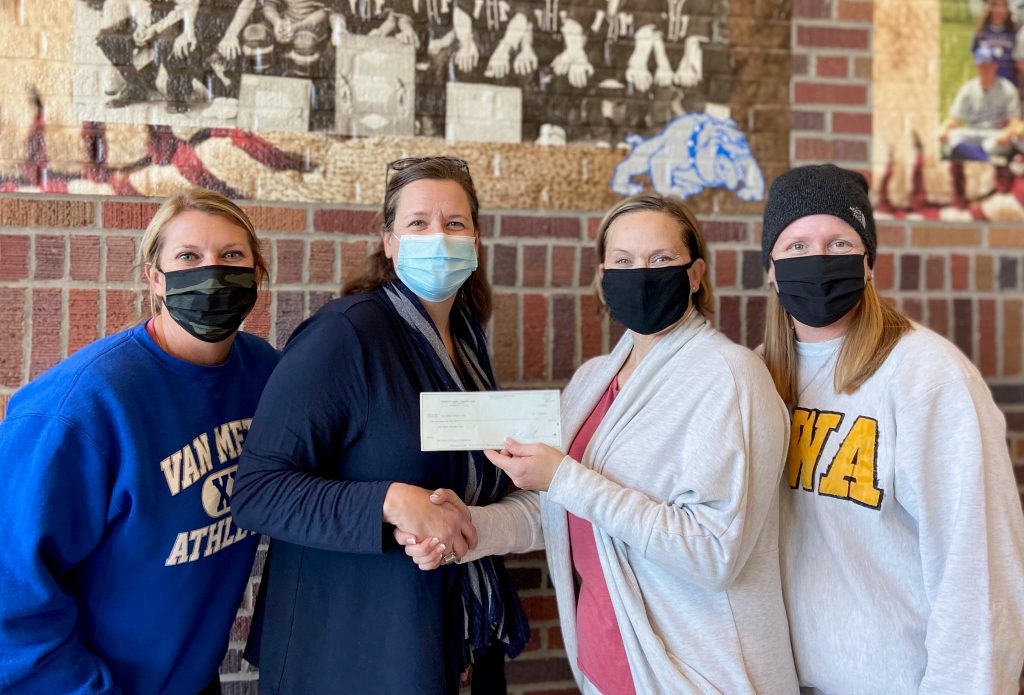 "This is the BEST gift I have EVER received from an employer!" Molly says. "2020 has been a year like no other. I'm grateful that I can give back to a community that supports my kids while I'm working from home. As Coretta Scott King so wisely said, 'The greatness of a community is most accurately measured by the compassionate actions of its members'."
The Van Meter Athletic Booster Club is a non-profit organization committed to fundraising, volunteerism and community engagement. "Bulldog Boost" is a program the club recently launched to help and encourage local families in need. The Club is working with the school nurse, counselors, administrators and the Van Meter United Methodist Churchto identify local individuals and families who could use an extra "boost" this holiday season. 100% of funds raised will be distributed to Van Meter Bulldog fans in need.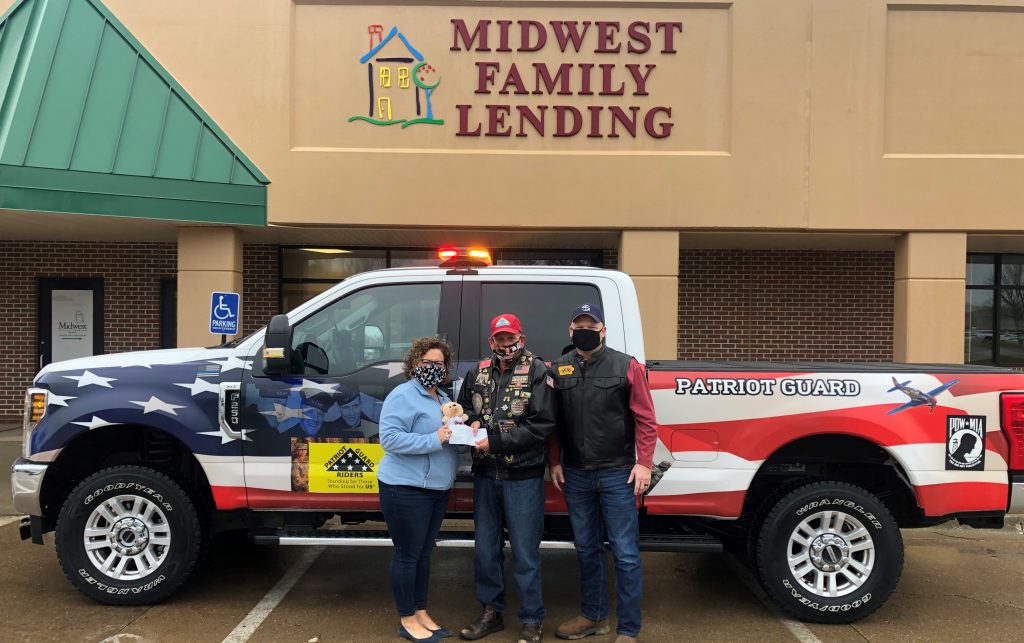 The Patriot Guard Riders is a volunteer organization that ensures dignity and respect at memorial services honoring fallen military heroes, first responders and honorably discharged veterans. The group has an unwavering respect for those who risk their lives for America' freedom and security. The riders escort and "stand for those who stood for us" with flags in hand lining cemeteries and churches to honor and protect families of the fallen. They volunteer their time, gas, lodging, etc. Donations are used to provide plaques, flags, teddy bears, challenge coins and police officer coins in recognition of service and sacrifice. The riders donate any remaining funds at the end of the year to various fallen solider/wounded warrior programs.
"I've personally seen the passion Jim Clark (state captain for Patriot Guard Rider's Iowa Chapter, pictured center) and Bill Murphy (the chapter's chaplain, pictured right) share for the group's mission," Sara says. "Jim's attended more than 1,000 missions and Bill has been part of about 100, along with his whole family. Our first responders and military are the first call we make when we are in trouble, and they deserve protection and peace of mind as they lay their loved ones to rest."
Patriot Guard Riders only attend services to which they've been invited by the family. You don't have to be a veteran to join. You don't have to ride a bike to join. You only need respect and the desire to show it.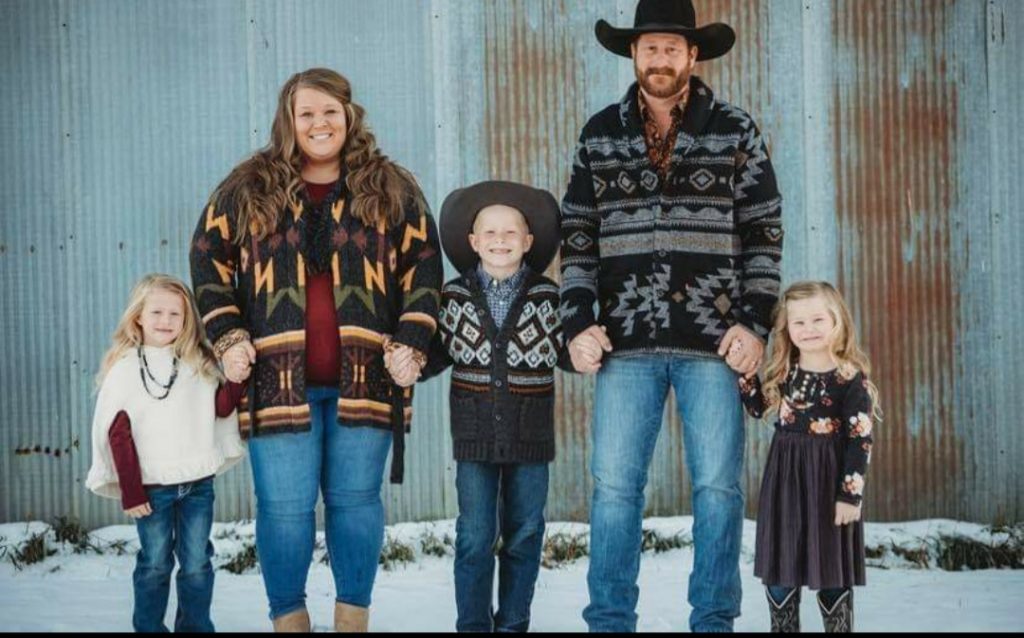 Brianna grew up a few doors down from the Heikens and was their go-to babysitter whenever they needed an extra hand while raising their family. Now married with a family of her own, the Heikens consider Brianna and the Gravs part of their extended family. As such, they've seen the toll the past four years have been on the Gravs.
Saige and her twin, Sawyer, were born on March 11, 2016. Saige entered the world with two life-threatening birth defects — esophageal atresia (her esophagus and stomach weren't connected) and tracheoesophageal fistula (an abnormal connection between her esophagus and windpipe). As a result, she's endured more than 22 surgeries, numerous ambulance rides, lengthy hospitals stays, daily treatments and ongoing doctor appointments. She's been in the hospital more than she's been home. And, unfortunately, this little warrior's challenges have not ended.
"In the past four years the Gravs have experienced extended separations, financial challenges, and more emotional and heartbreaking strains than most would experience in a lifetime," Linden says. "I wanted to help ease the burden for this resilient and steadfast family and to pass on some Christmas cheer to them this year."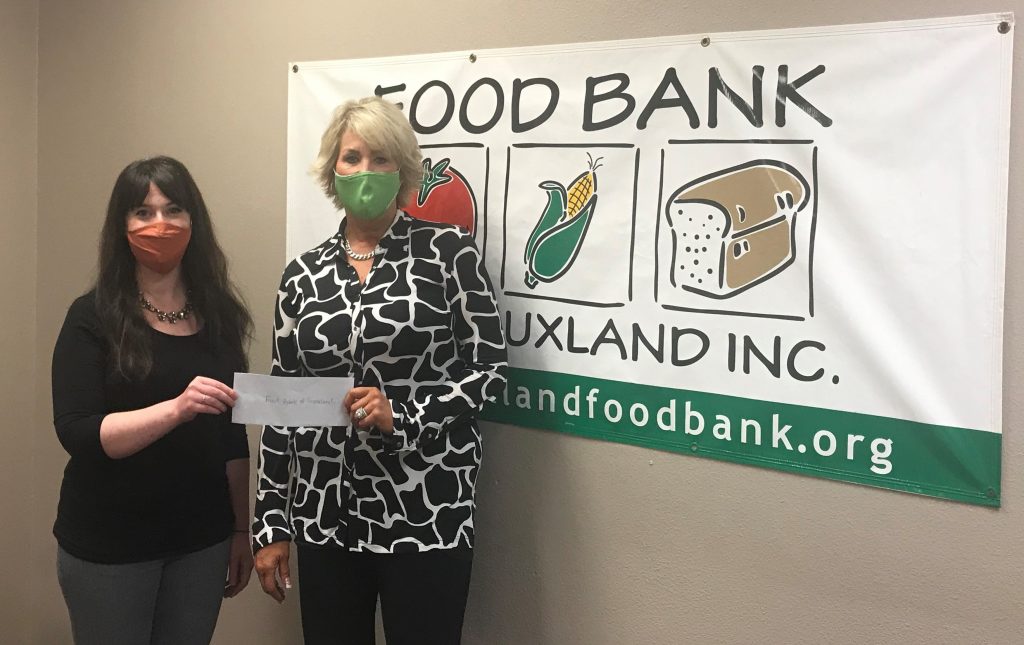 Leading Siouxland in the fight against hunger, the local food bank is the distribution center to more than 110 agencies in northwestern Iowa and northeastern Nebraska. It's also home to three additional programs — The Mobile Pantry Program: Food to You, the Mobile School Pantry Program: Food for Families, and the BackPack Program: Food for Kids. The latter's what drew Kim to the cause to which she has personally donated for several years.
"The thought of anyone going hungry much less a child was just not acceptable," Kim says. "This year has been an especially difficult year with the pandemic that has left so many struggling to provide food for their families. It's also the season of giving; I'm reminded of just how blessed my family and I are and hope that this contribution can help as many people as possible."
"We are experiencing extraordinary times right now. However, in the midst of all the challenges and concerns, one thing remains constant: the need to eat," says Valerie Petersen, Director Of Development for the Food Bank of Siouxland. "In addition to those who were food insecure before we heard the term 'COVID-19', now countless individuals and families who are no longer certain of their paychecks need our help as well."
In FY20 Food Bank of Siouxland distributed more than 3.5 million pounds of food — a 35% increase over FY19. Prior to the pandemic, its monthly distribution increase was 10% on average, which is considered normal. Between March and September its monthly increases ranged between 38% and 73%. Monetary and physical donations (preferably shelf-stable items) and volunteers are needed to help meet this. Another way to help is the 17th Annual Empty Bowls Fundraiser and Hunger Awareness event, which will be held virtually this year on Friday, February 5.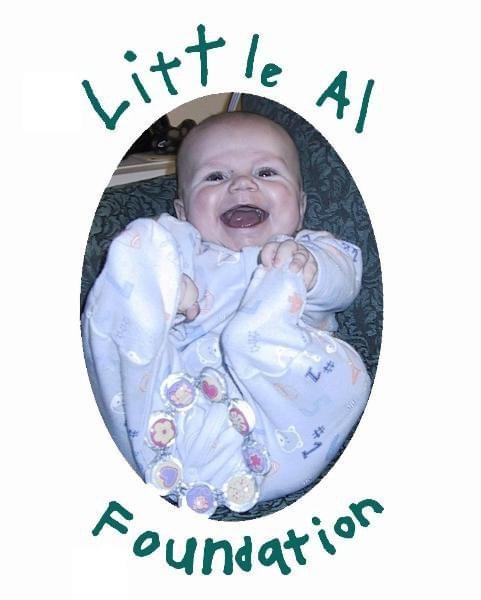 The Little Al Foundation helps families who have to travel for their children to receive medical treatment by providing dining, gas, groceries, lodging and other gift cards. The Foundation's goal is to alleviate some of the financial burden not covered by insurance. Ryan and Holly Miller started the foundation in memory of their son Alan who died in 2005. The Little Al Foundation is dedicated to helping families in Iowa stay together while going through some of the toughest things they will face.
"The Foundation supported some friends of mine when their daughter needed heart surgery and helped to take a lot of stress out of their hard journey," Eric says. "It's a great cause that supports families facing the unimaginable in their time of need."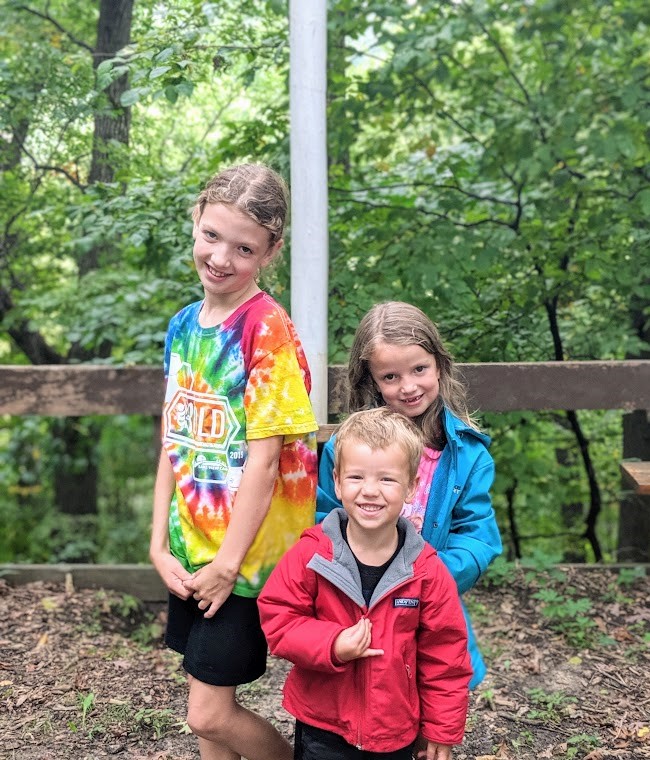 Katie grew up attending the camp each summer and spent 13 summers volunteering there as a counselor, music leader and grounds/kitchen volunteer. The camp had such an impact on her that it's even where she got married! And each year her family rents one of its retreat cabins to get away and enjoy the great outdoors together.
"Camp Quaker Heights has meant so much to me, and knowing it was greatly needed this year, I wanted to do more to help," Katie says. "I feel so blessed to share this gift."
Through various camps and retreats, church camps provide a positive environment for kids and adults alike. And the foundations made at camp last a lifetime. "Surrounded by nature and unplugged from today's distractions, camps provide what many call a 'thin spot'— a place to connect to what matters most. We all need that now more than ever," Katie says.
Unfortunately, church camps across the county have been hit hard by COVID-19, causing some to have to close their doors permanently. Summer camps typically account for nearly 60% of CQH's annual budget. It was only able to host camps for two weekends last summer — 10% its typical number of campers.
"We're so grateful for this gift to help with our operating costs," says Chip Daleske, CQH camp administrator. "It's been a tough year with everything life has thrown at us. Because our income was affected so much this year, we're extra thankful for the individuals and churches that have stepped up their giving this year — above and beyond!"
Looking to get away somewhere safe and spend time with those you love? CQH's retreat center and cabins are available to rent year round. Its property borders Pine Lake State Park and the Iowa River—great for hiking, exploring and unwinding!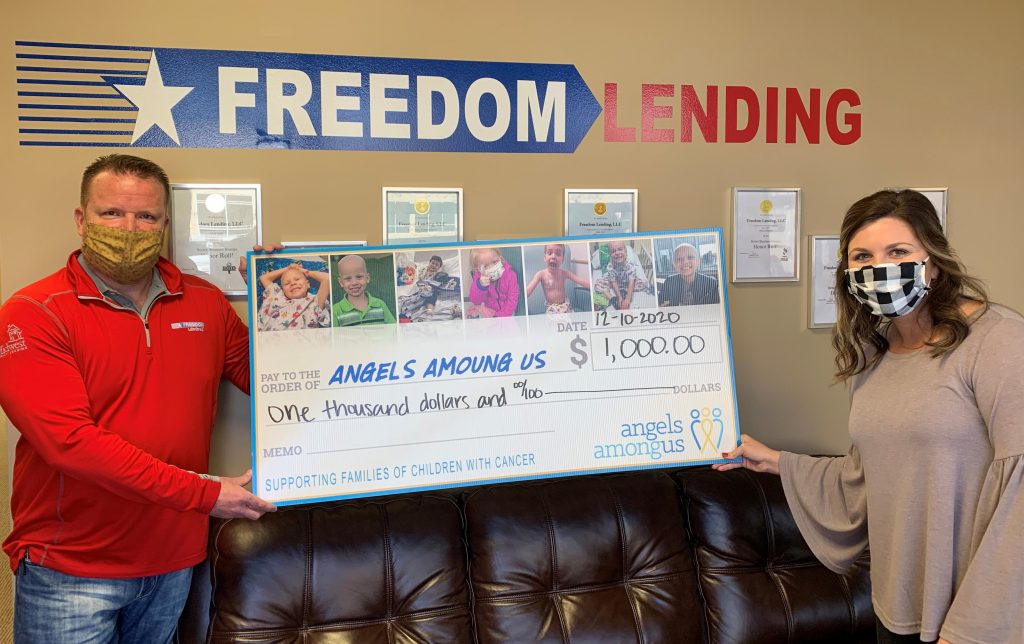 When a child is diagnosed with cancer, a family's life as they know it comes to an abrupt halt. Unfortunately, their monthly expenses do not. That's where Angels Among Us comes in. The charity provides financial and emotional support to families battling pediatric cancer in Nebraska. Prior to Troy being born, his parents had a son who died of leukemia at the age of 5. He knows how difficult the experience was on his parents, and it inspired him to personally donate to this Omaha-based organization each year.
"When you read and see what these children are going through and how hard it is on them and their families, it pulls at your heartstrings," Troy says. "It's important to me to help this local charity financially to carry out its great mission."
Day 13 🎁 Marti Myer | Jackson Township Volunteer Fire Department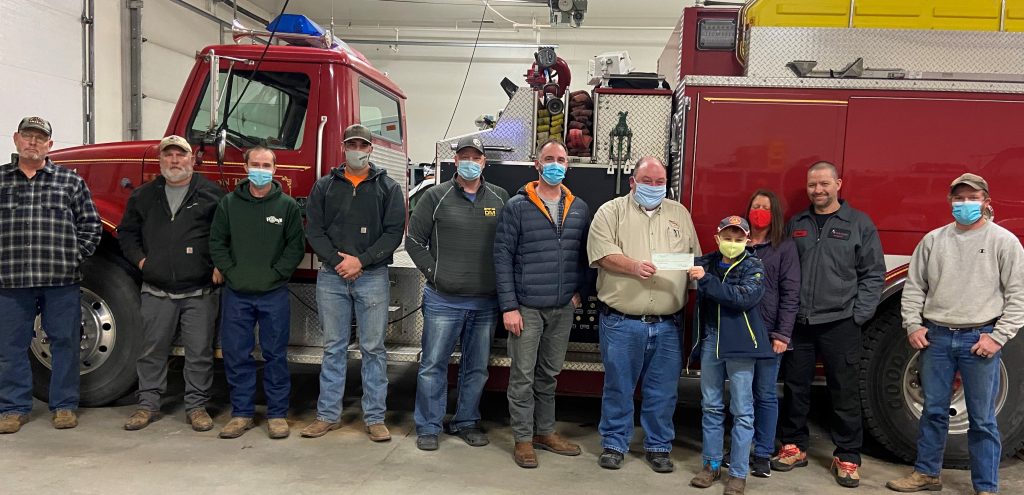 The Department proudly provides fire and EMS protection for 36 square miles in Warren County Iowa. As an all-volunteer fire & rescue department, volunteers lose sleep, miss family functions and are currently putting themselves at a higher risk with COVID-19 to protect others in their community. They rely on donations but, unfortunately, weren't able to hold their annual fundraiser this year due to the pandemic.
The group is "near and dear" to Marti's heart, as her husband has served as a local volunteer firefighter for the past 13 years.
"I know this year has been tough on the fire department," Marti says. "They're passionate about helping others and giving back to our community — even in the middle of the night when the rest of us our sleeping. And they deserve our support."
Day 14 🎁 | Stacy Wegman | FreeStore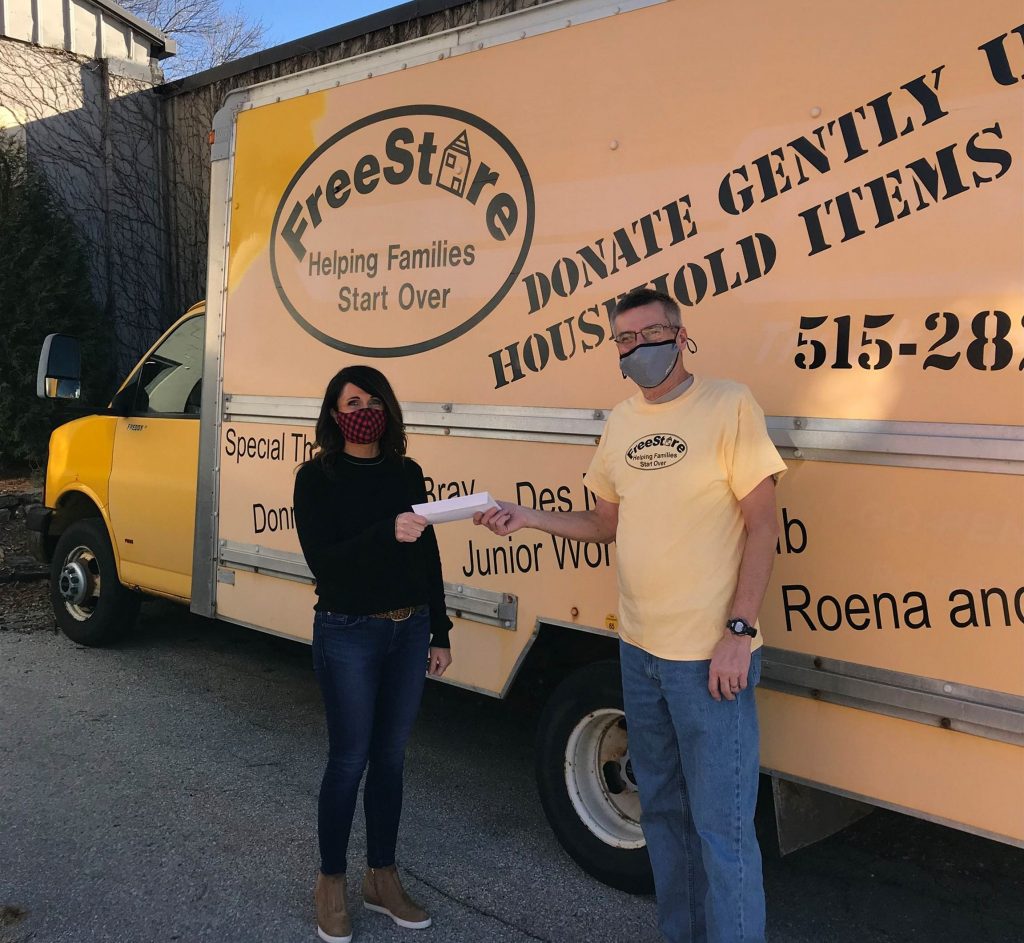 The FreeStore is a furniture bank run by volunteers that supports children and families who've escaped domestic violence situations and those suffering from other forms of trauma including natural disaster and criminal assault. It provides donated furniture and household goods to help these families start over in safe environments.
"These families often have nowhere to turn and nowhere to call home," Stacy says. "The FreeStore serves so many families who literally have nothing. I can't imagine being in that position, especially with children in tow."
Stacy learned about the charity through a board member and has collected donations through her church the last several years. She says they're always in need of small kitchen appliances, bedding, furniture, other household goods and monetary gifts. Last year the FreeStore served 336 families, including 390 adults and 549 children, with 274 tons of furniture and other household goods. COVID-19 has been challenging for the charity, as many of its volunteers are older than 70. The warehouse had to shut down in March and reopened in May with protocols to protect clients, volunteers and donors.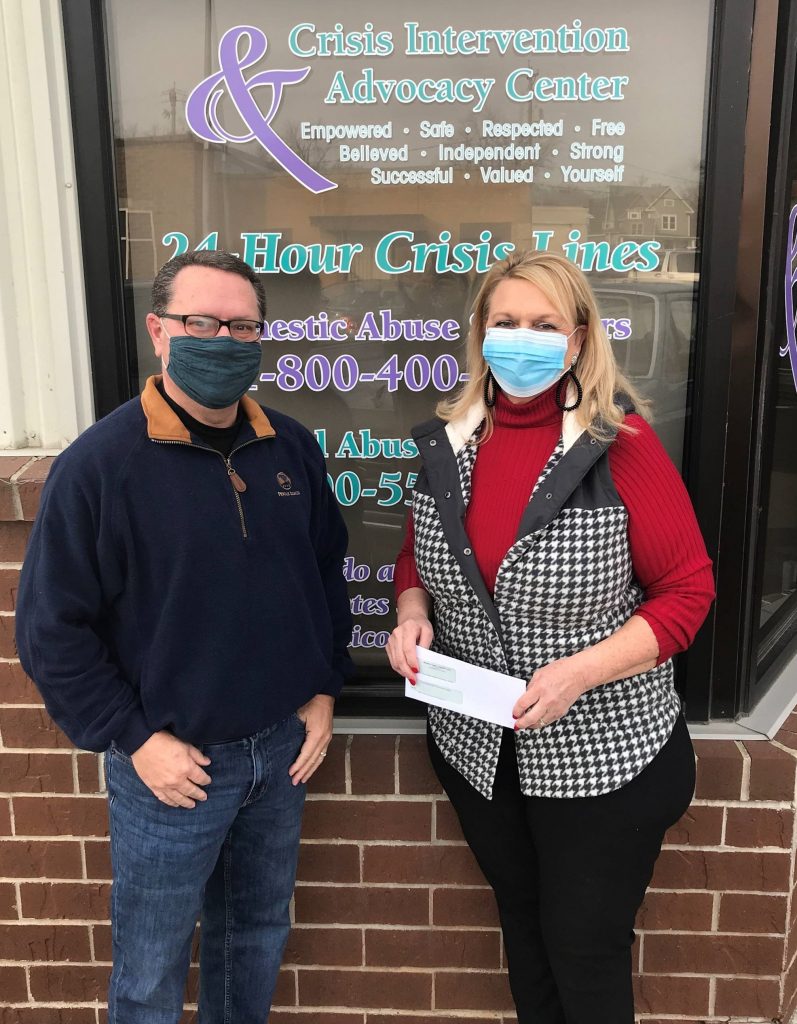 The Center supports survivors to unite communities to promote social change. Crisis Intervention includes support, listening, information, options and assessing danger. Advocacy includes exploring alternatives, formulating action plans and providing follow up and resources. The center's services are free, voluntary, confidential and available to all without discrimination. Trained advocates provide acute crisis response and long-term advocacy services.
Mark learned about the center through our #MFLCares program and has also since heard about the impact of the organization's services directly from a survivor. "Crisis Intervention & Advocacy Center is a wonderful and much needed service, supporting those in our communities facing the worst of what humans can do to one another," Mark says. "I'm hopeful our support of the center will shed light on what a great organization it is and will encourage others to support it as well."
"When a business like Midwest Family Lending takes the time to hear our mission, it's also coming alongside us to see violence and oppression in its own communities and doing something about it," says Taylor Sullivan, Crisis Intervention & Advocacy Center's communication & technology coordinator. "Thank you for choosing to donate and support our mission to make our communities stronger and safer."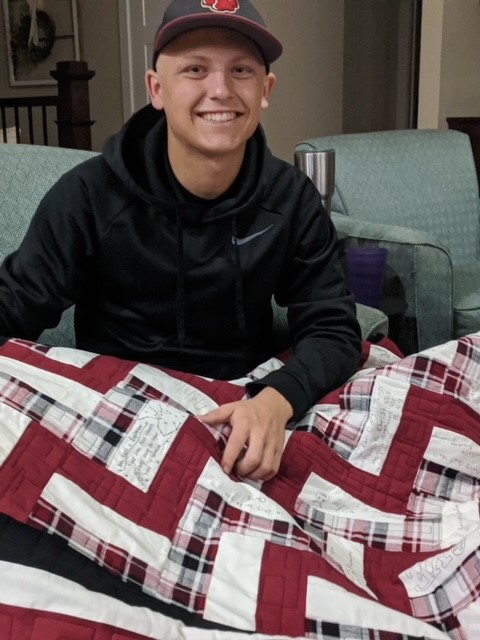 Cole Williamson is a senior at Adel DeSoto Minburn Community School District battling a rare and aggressive form of cancer that affects children and young adults. Cole was diagnosed with Ewing Sarcoma in September and is now undergoing chemotherapy. His treatment plan throughout the course of the next year will also require radiation and surgery. Despite all of this, Cole maintains a positive attitude and loves being part of his high school football and baseball teams.

Cole played travel baseball with Carey's son on a team her husband coached for about 7 years. And, as anyone who's had children in competitive sports knows, through all the games, traveling tournaments, team meals and hotel stays teammates and their families become part of your own.
"You laugh together, cry together and take care of each other," Carey says. "Cole's family is splitting their time with work and hospital stays, which can be challenging. This gift will hopefully ease a little bit of the burden they have right now."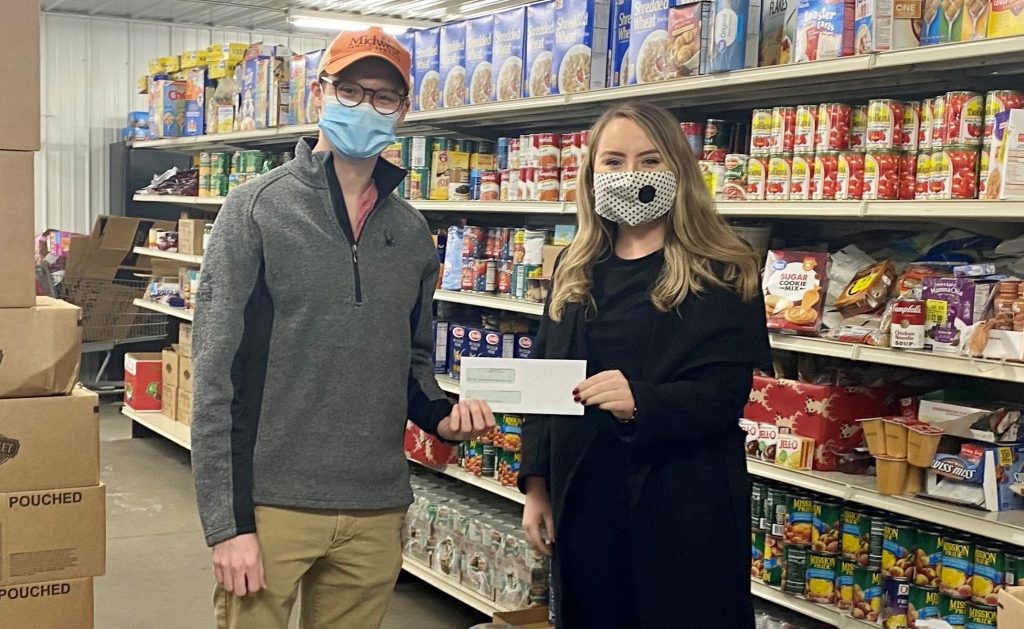 The Bidwell Riverside Center supports Des Moines' Southside community through its Food & Clothing Pantry and Child Development Center. Curvin learned about the center through its partnership with Des Moines Area Religious Council, where he's volunteered through the nonprofit's Meals from the Market program, collecting donations from patrons and vendors at the Downtown Farmers Market. The donations, largely of fresh produce, are then delivered to DMARC's network of local pantries, including Bidwell Riverside Center.
"When the Farmers Market couldn't be held as it traditionally is, I thought of all the boxes and truckloads of fresh food that never made their way to local food pantries as a result," Curvin says. "With 2020 being so difficult for so many, I find comfort and hope knowing there are places like the Bidwell Riverside Center in my community to help."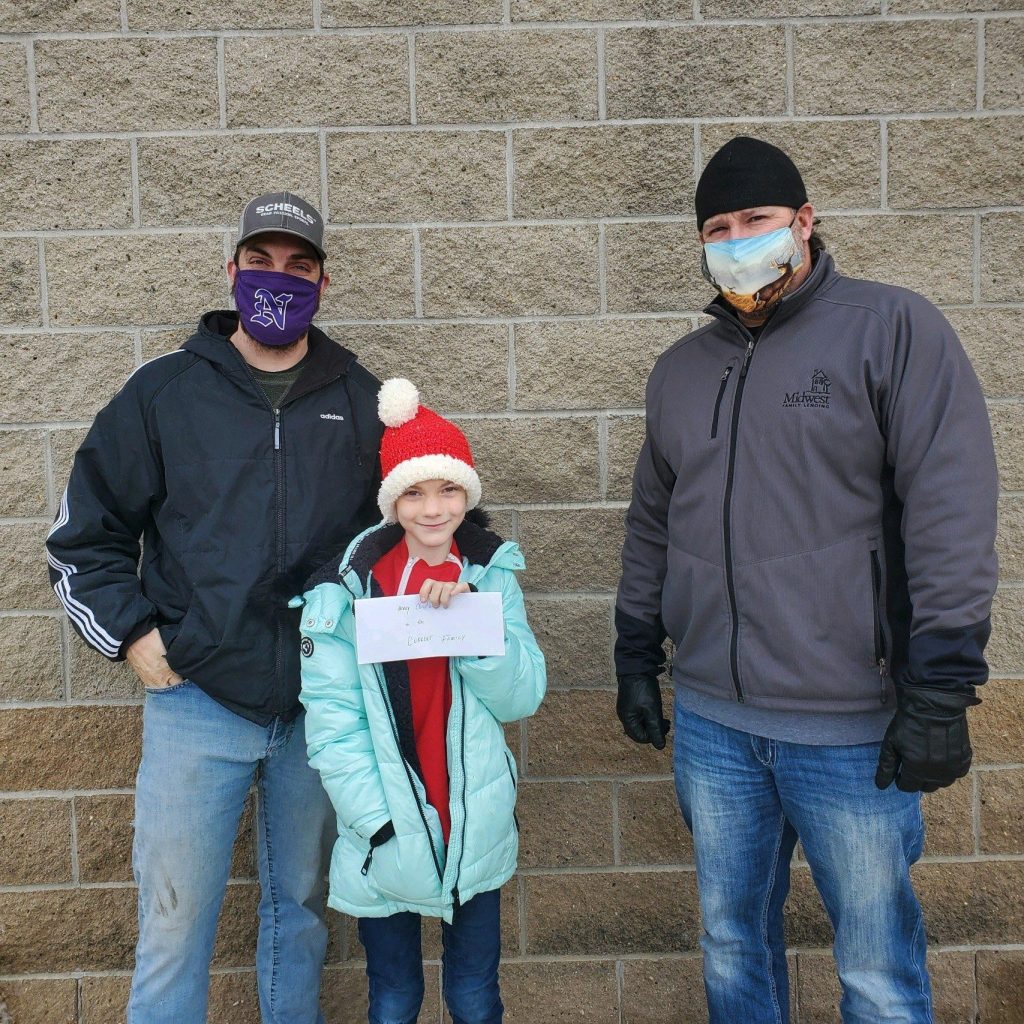 Peyton is a 5th grader at Lakewood Elementaryin Norwalk battling stage 3 ovarian cancer.
"I can't imagine one of my kids going through this," Josh says. "I wanted to help out a local family that was dealing with a tough time. So I contacted our school system, where Mr. Larson connected me with the Currents."
Peyton had a 5 lb. 2 oz tumor removed from her abdomen in October, which the surgeon said was a miracle. She's currently on her second round of chemo, five days a week, with two more rounds to follow. She will have extensive hospital bills and out-of-pocket costs will likely exceed $24K just in the next 6 months. She'll then transition to weekly, two-hour blood tests for the next two years. Due to her condition and COVID-19, Peyton's been completely isolated from her friends. This gift will help her family to purchase a computer so she may play games and communicate with her family and friends. But it doesn't end there….
Shortly after Josh spoke with Peyton's father about his gift, Mr. Current called back with an incredible question — "I've talked with my wife, and we're very appreciative of the gift you're going to give to help us through Christmas and make it special. But I was wondering if we could give half of the money to another family that's going through the same thing as Peyton? They have 9 kids, and it's a little rough for them at this time."
The Currents are an inspiring example of what our #SpreadCheer movement is all about – paying it forward.
Day 19 🎁 Jason Pleggenkuhle | The Johansen family of Urbandale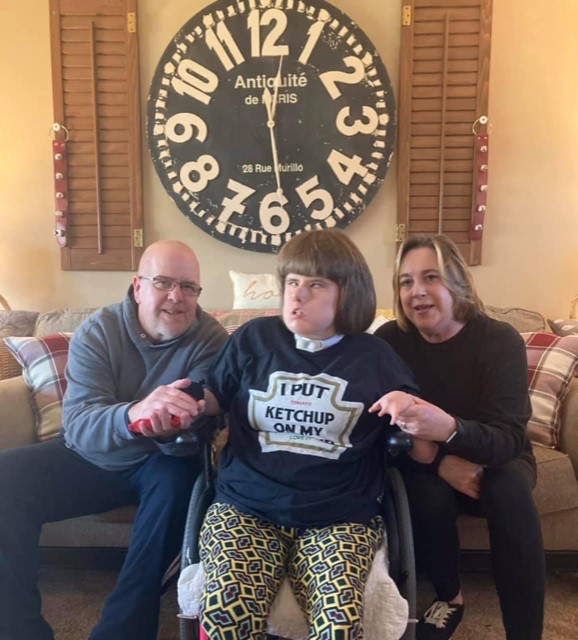 Because our mission's to create customers for life, our customers become an extension of our "family" at Midwest Family Lending. And that's how Jason got to know the Johansens five years ago…
"Life hasn't been easy for the Johansens; Kendra and John are the definition of selfless love," Jason says. "I feel like I become a better person just by being around them."
Jennifer, the Johansens' only child, was born premature and not breathing with the umbilical cord wrapped tightly around her neck. As a result, she requires 24/7 care, and her parents have spent the last 33 years "guessing" her needs/wishes. At age 5, surgeons inserted a shunt to relieve pressure caused by a cyst at the base of her brain, which has required many revision surgeries. The one in 2005 left her unable to walk. She's crossed death's door many times, and John had to take early retirement to help care for her when Medicaid ran out. But he says it's all been part of a greater plan.
"Jennifer's life and spirit has been all about teaching others — mostly how to love and accept each other. We know our three lives have definitely been blessed," John says. "We continue to take one day at a time. We hope this little glimpse into our lives will inspire each of you to experience the Miracle this season's all about."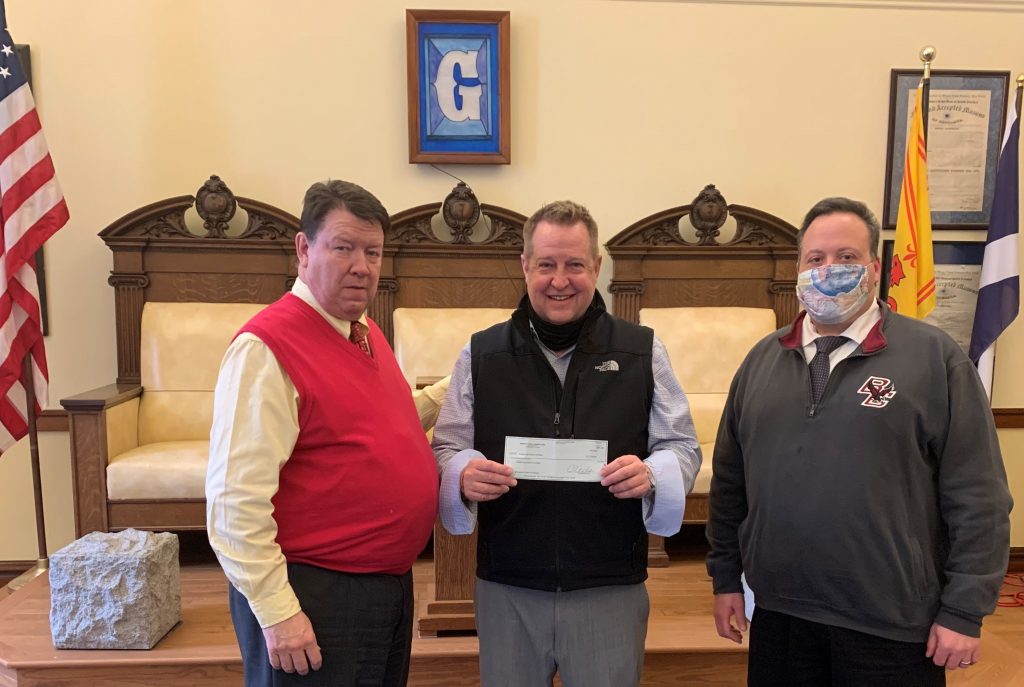 "As a member for several years, I've seen firsthand how donations through the Foundation make a difference in people's lives," Ben says. "This organization has been committed to helping people on a day-to-day basis and continues to try to expand and improve on making our community a better place."
Philanthropy has been Omaha's Scottish Rite Masonic's hallmark of the since its formation in 1867 — just three months after Nebraska became a state. The foundation gives more than $100,000 to the community each year. Since 1992, it has underwritten $28,000 annually in merit and need-based scholarships for University of Nebraska at Omaha students. Omaha's Scottish Rite's signature focus is RiteCare Speech and Language therapy, to which the Masons have donated more than $25 million since 1975. RiteCare Speech and Language Clinic is located at the UNMC Munroe-Meyer Institute. Speech therapy is also offered to Nebraska children through clinic locations in Omaha, Lincoln, Hastings and Kearney, as well as to children across the state through telepractice. In the past year, 1,035 children received 5,000 therapy sessions. Therapy's provided to children on the Autism Spectrum, those with Down Syndrome, Aphasia, Apraxia, feeding and swallowing disorders, and a host of speech disorders. And services are provided to families without regard to their ability to pay. The Scottish Rite Foundation of Omaha also seeks to give back to the community through financial support each year to the Omaha Home for Boys, the Masonic-Eastern Star Home for Children, the Fatherhood-Family Initiative, as well as the Meyer Foundation for Disabilities.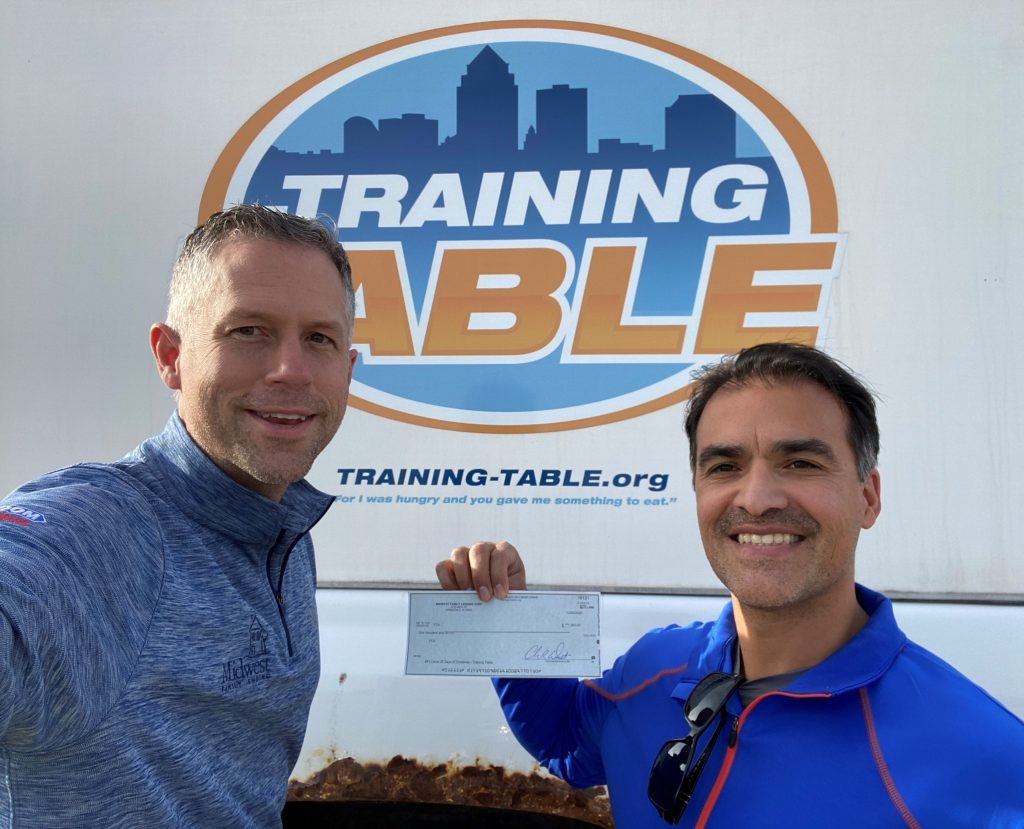 Training Table rescues and redistributes perishable food to some of the most diverse and at-risk student populations in Des Moines — primarily through urban high schools and area nonprofits. Several years ago, FCA asked the coaches in Des Moines' five urban high schools how the ministry could best serve them and their student athletes. The resounding, surprising and unanimous response was "feed our kids". Urban coaches were seeing too many hungry students from food-insecure homes. The coaches knew their athletes were at a disadvantage in competing because many lacked the nutrition to give their best physically and mentally in practice and in games, let alone perform well in the classroom. In an effort to help, FCA partnered with QuikTrip to rescue perishable food the stores could no longer sell, but that had not reached its expiration date. In that past 5 ½ years, Training Table has rescued more than 570,000 food items valued in excess of $1.9 million dollars redistributed at no cost to student athletes representing 21 different sports in 5 schools, as well as other at-risk youth in the community. Thanks to local nonprofits, students also get access to this food even during non-school days and the summer!
Charlie's $1,000 gift will be used to fund the maintenance needed for food distribution this winter. He heard about the program through Contributors Breakfast Club, which was started in 1987 for members to connect with peers and the community through charitable work, reciprocity and social activities.
"Three simultaneous wins makes for an extremely impactful mission — kids are fed, companies are engaging with the communities they serve, and food waste is drastically eliminated," Charlie says. "I also love that a (then) newly retired CEO came up with the idea, proving that some of life's best ideas don't have an age expiration."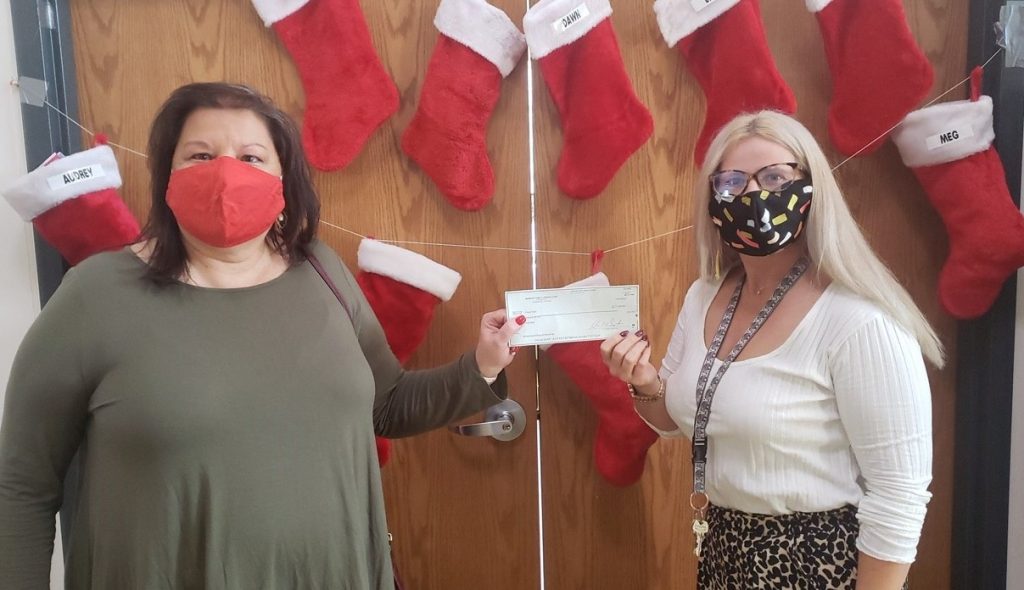 Fresh Start is a transitional shelter located in Lincoln that empowers homeless women to change their lives by recognizing and utilizing their strengths to overcome barriers to self-sufficiency. Fresh Start is more than a shelter — it's a goals program that supports women who are working diligently to improve their lives. Women may stay in the shelter up to 1 year followed by community support up to 2 years with monthly visits and quarterly food baskets provided. Fresh Start has served more than 1,500 women throughout the last 30 years.
A friend introduced Jean to the charity, and she was moved to take action after seeing the videos about what they do. "I wanted to help women struggling in our community to get back on their feet." Jean says. "We all need a little help sometime."
Day 23 🎁 Hannah Fuller | 10 Des Moines Families in Need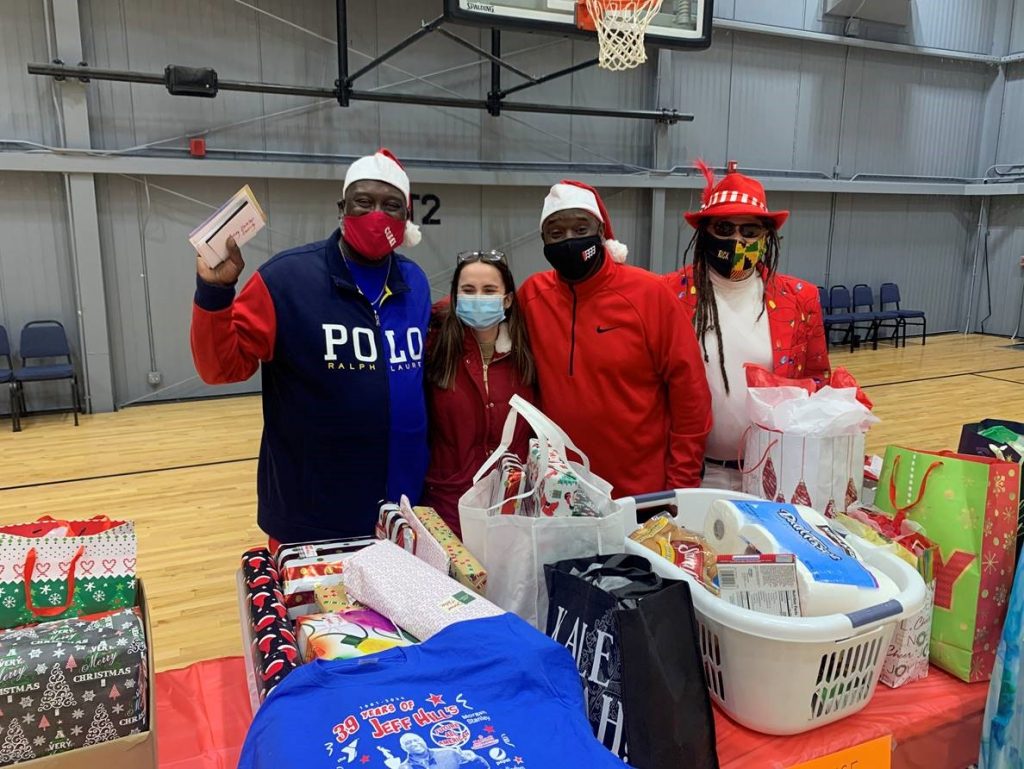 Hannah selected a drive to provide Christmas gifts and food to families in need in the Des Moines area. Ten sponsors have purchased gifts, food, etc. to provide joy and hope to 10 families from homes in Oakridge and the Boys & Girls Club of Central Iowa.
Hannah learned of the project after her family had been requested to be a sponsor through connections at @Dowling Catholic High School. "Usually companies are sponsors for families, but with many people working from home because of COVID, it was harder to find corporate sponsors," Hannah says. "I used to do something very similar when I was in high school, called Christmas Baskets. It's a great way to give back and help others have an amazing Christmas, filled with the things they've always wanted."
This project stems from former Drake University basketball player Jeff Hill's Future All-American Basketball Camp. Jeff wanted to bless these families at Christmas. Heidi Grace with @Grace Label Inc. and Mary Jo Hardy with @Skeffingtons have helped organize sponsors to provide for families in need over the years. Hannah's gift will provide monetary gifts to all 10 families and ensure they're taken care of this holiday season.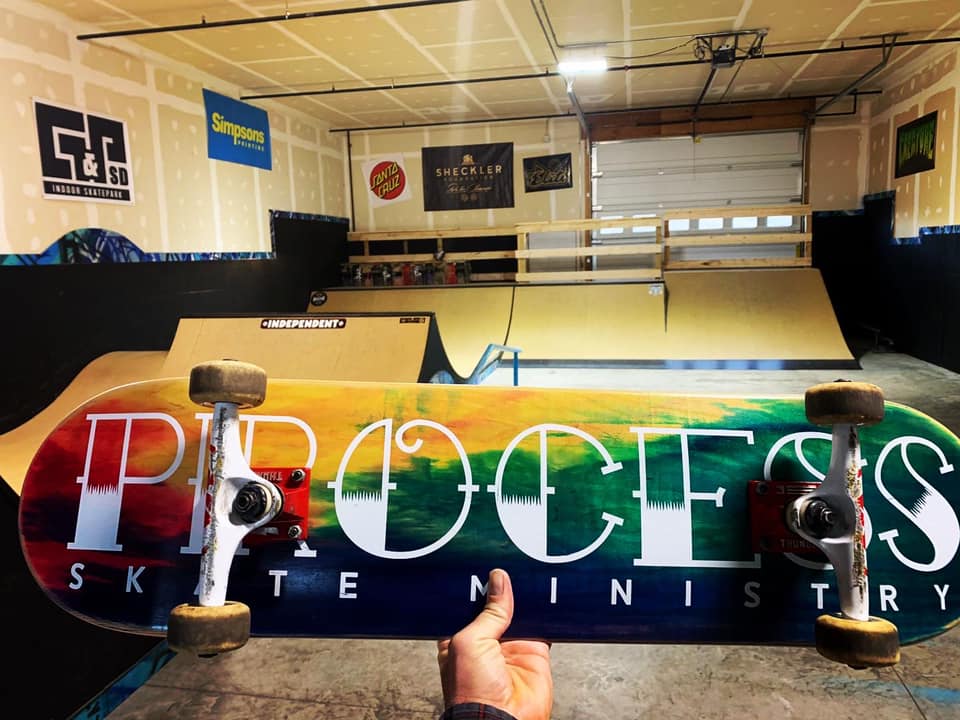 Process Skateboard Ministry uses skateboarding as a tool to teach, mentor and disciple youth. Its goal is to provide a safe, sober, year-round facility for skaters to do what they love in an encouraging, fun and positive environment. The nonprofit runs the only indoor skate facility in southern Colorado (G&P Indoor Skatepark) and now had a second location in Rapid City, South Dakota (G&P SD). Process Skateboard Ministry is a youth outreach program through Aaron's church.

"My wife and I have known Mike for over 20 years," Justin says. "He's beat this disease, and we want to help find a cure for anyone else who comes down with this."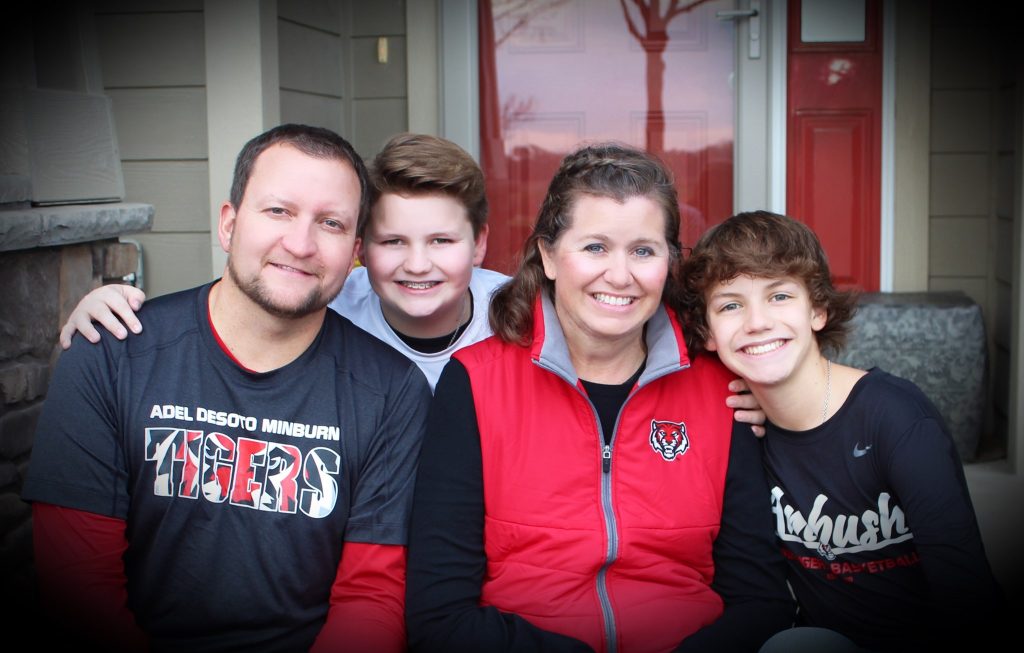 Chuck, our president, and his wife Jean have so enjoyed learning about all of the awesome people and organizations selected, they wanted to kick off the New Year by adding one more recipient!
Laurie Dawes is a wife, mom, daughter, sister and nurse who lives in the Wests' community of Adel and is in the midst of battling ALS. She's spent many years caring for others, and now it's time for the community to come together to support her in her time of need.
"We've selected the Dawes family because we want them to know they have a community of support behind them as Laurie battles ALS," Jean says. "The medical bills, along with the living accommodations that come with ALS can become financial burdens on any family. But this burden doesn't even compare to the emotional strains of living with the disease. We hope sharing their story spreads awareness of their situation and lifts them up with a little donation and a lot of love and prayers. Laurie has brightened many a room with her huge smile. We hope this will also bring a smile to her face!"
Whether it's to these awesome causes or an equally deserving party, we encourage you to #SpreadCheer into 2021!
I'd like to thank these amazing families and organizations for sharing their stories with us this Christmas season. The daily examples of compassion, sacrifice and perseverance have been truly inspirational. We are surrounded by communities made up of incredible people, and I've been reminded of that each day this month.


~Chuck West, President, Midwest Family Lending