Today's libraries are not just about what we have for people, but what we do for and with people.  Libraries of all kinds add value in fives key areas: education, employment, entrepreneurship, empowerment, engagement.
In the month of July, Midwest Family Lending Corp donated $1650 to Van Meter Public Library Foundation.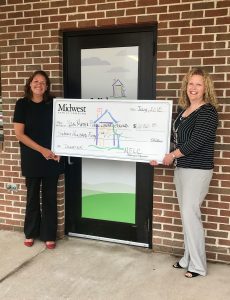 The Van Meter Public Library Foundation is a volunteer group of citizens dedicated to the growth and enhancement of the Van Meter Public Library program for all members of the community.  Their strategic plan is to construct a new library building, replacing the 1,100 square foot of space in use since 1980.
With the critical role libraries play in communities, it is essential to increase public awareness and support of the value, impact, and services that are provided by investing in the future of our library.
The Foundation's fund-raising efforts are supported through contributions from individuals and businesses in the community.
Because transformation is essential to the community we serve.