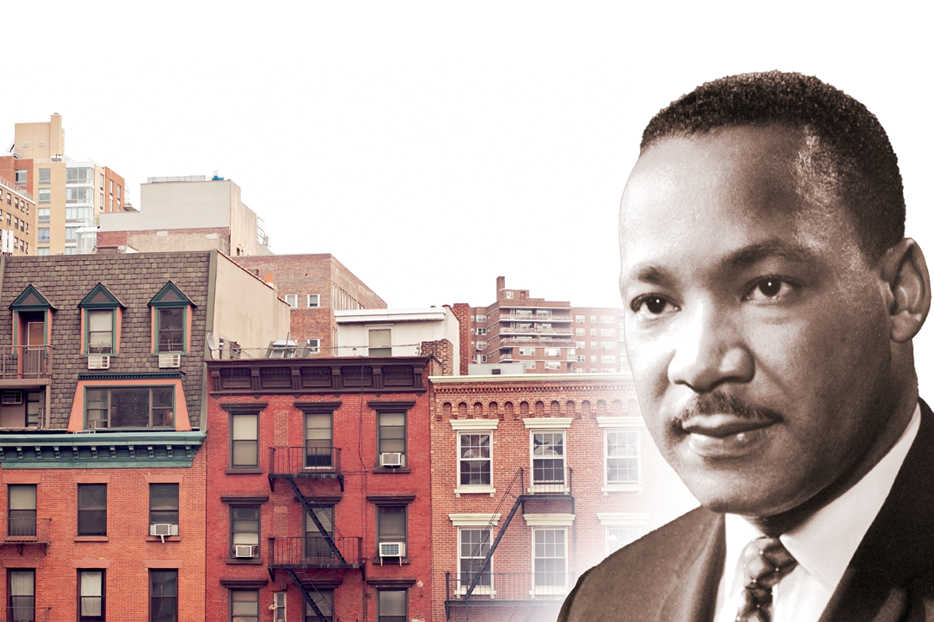 Buying a home has long been a cherished part of the American Dream, but when Captain Edward Brooke returned as a decorated serviceman from World War II, his desire to buy a home was impeded by one simple fact: He was African American, and at that time, discrimination in homebuying and home financing wasn't just common. It was legal.

This was one of many fights that Dr. Martin Luther King Jr. took on as a leader of the American Civil Rights movement in the 1960s, and as we celebrate MLK Day on January 16, it's a fitting time to look at Dr. King's vital role in the Fair Housing movement.
Barriers to Equal Housing Opportunity
The fight against housing discrimination was an uphill battle, because the structures that kept African Americans segregated were sanctioned by the federal government. To shore up the housing market during the Great Depression, the federal government created the Home Owners' Loan Corporation (HOLC) to assist banks in deciding where to lend. Local real estate agents and lenders provided information to HOLC based largely on their impressions of the racial and socioeconomic makeup of certain areas, and low-rated areas were colored red on HOLC's maps. These "redlined" areas were labeled as risky for home loans, even though those areas didn't necessarily have high default rates on mortgages.

With a government agency backing the redlining practices, lenders were able to refuse to write loans for entire neighborhoods or would provide loans at predatory rates, and insurance companies would often refuse to insure those properties. Additionally, it was common practice for real estate agents to refuse to show homes to African American homebuyers or steer them to undesirable neighborhoods. This cycle ensured that generations of otherwise qualified homebuyers were denied housing based solely on the color of their skin.

By the 1960s, a main battleground for housing equality was in Chicago, which at that time was one of the most segregated cities in the nation. Dr. King joined the existing Chicago Freedom Movement to organize protests to draw attention to the unsafe, unsanitary, and overpriced housing that African Americans were consigned to. In 1966, he addressed a crowd of 30,000 people at Soldier Field before leading the group to the city hall, where they taped their demands to the door. Despite violent protests from white residents of the city, Dr. King and his group continued their fight to end discriminatory practices designed to keep neighborhoods segregated and deny African Americans equal access to safe housing.

As the fair housing movement gained steam in 1968, Dr. King found an ally in Congress: Captain Brooke was now Senator Brooke, and he succeeded in getting the Fair Housing Act included in the Civil Rights Act of 1968. No longer would people face housing discrimination based on the color of their skin. But tragically, Dr. King would not live to see this landmark legislation enacted. It was signed into law the week after his assassination.
What the Fair Housing Act Means for You
The Fair Housing Act levels the playing field for individuals looking to rent or buy a home, get a mortgage, or obtain housing assistance. It prohibits housing discrimination based on:
Race
Color
National Origin
Religion
Sex (including gender identity and sexual orientation)
Familial Status
Disability
Here are some common examples of what the law prohibits:*
Refusing to rent or sell housing
Setting different terms or conditions for a home sale or rental, including imposing different prices or charges
Using different qualification criteria, standards, or procedures, such as income standards, application requirements or fees, credit analyses, approval procedures, or other requirements
*Based on someone's race, color, religion, sex, disability, familial status, or national origin

Home lenders cannot use an applicant's status as a protected class as an excuse to:
Refuse to make or purchase a mortgage loan
Impose different terms or conditions on a loan, such as different interest rates, points, or fees
Discriminate in appraising a dwelling
For a full list of protections under the Fair Housing Act, visit the Department of Housing and Urban Development.
The Future of Dr. King's Dream
Of course, Dr. King's legacy encompasses much more than his contributions to Fair Housing. His work toward voting rights, labor rights, and desegregation of businesses and public places touch so many aspects of daily life that it's easy to take for granted the struggle and sacrifice that brought us this far. There is much more work to do, but in the meantime, we are fortunate to be building on the foundation laid by Dr. King, Senator Brooke, and so many other brave individuals.

As we celebrate Martin Luther King Day, think of how his efforts have impacted your life or that of someone you know. Thanks to Dr. King, millions of people have been able to achieve the goal of homeownership, and we remain committed to furthering that cause.